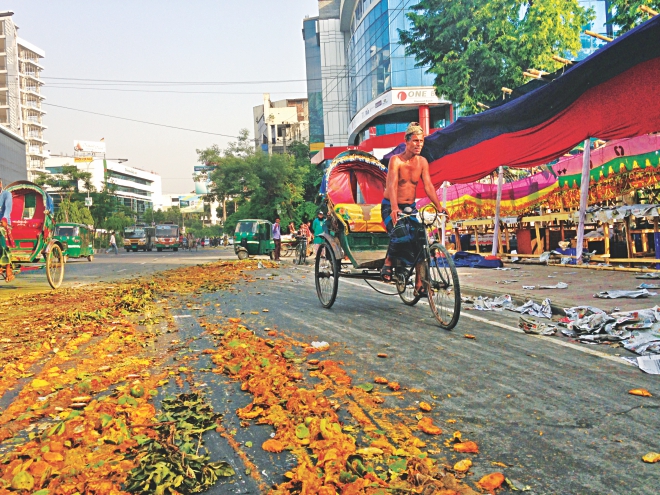 Bangladesh Fresh Fruits Consumers Association (BFFCA) on Saturday alleged that the destruction of fruits without any laboratory test is hitting farmers, fruit traders and importers hard.
They claimed that there have been confusion and conflicting views among government agencies over the effectiveness of formalin-detecting kits which need to be removed without any delay.
The BFFCA leaders came up with the claim while addressing a press conference at the Jatiya Press Club.
Convener of the body Dr Abdul Wadud read out a written statement at the press conference.
Prof of Department of Biochemistry and Molecular Biology, Dhaka University Dr Ishtiaq Mahmud, DU Chemistry Department Prof Dr Nulufar Nahar, Assistant Prof, Department of Chemical Engineering, Bangladesh University of Engineering and Technology (BUET) Dr Mohidus Samad Khan also spoke at the press conference.
Dr Wadud claimed that the reports based on fruits test coming from Science Laboratory, BSTI, IPH (Institute of Public Health) and instant report from formalin-detecting machine are not the same.
"We, as consumers, have the right to know which report is correct and which one is wrong. Test report was supposed to be the same everywhere in the world," he said.
Dr Wadud said the blood sugar of human body cannot be detected by a using machine externally. "The same way, it can't be determined what element a particular fruit contains inside it by using machine externally."
It can only be known once the fruit or its segment is tested in laboratory by slicing it, he added.
Dr Wadud claimed that most of the reports published on the existence of formalin in fruits are confusing and those reports have created panic among the consumers.
"Many have already given up consuming fruits. Fruits growers are being discouraged to grow fruits, and they're facing financial losses," he said adding that each person, according to the World Health Organization (WHO), should take 150 grams fresh fruits a day.
The BFFCA placed a 10-point demand that include ensuring formalin test facilities for the consumers at affordable cost and taking effective steps to make markets free from formalin.
They demanded that the destruction of be stopped immediately in the name of formalin-treated fruits without proper laboratory test to save farmers and food traders from financial losses.
The government will have to impose a ban on sales of formalin and harmful chemicals in the markets and punish those responsible through formulating a tougher law, they said.
Source: UNBConnect