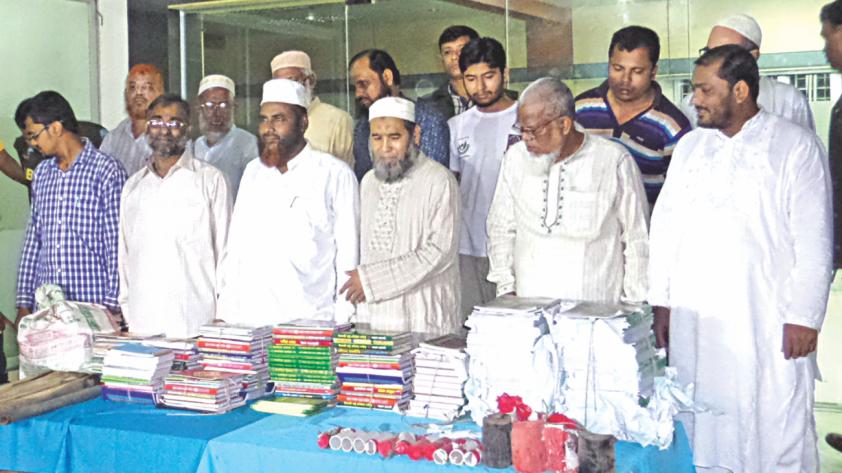 Police arrested two former lawmakers of Bangladesh Jamaat-e-Islami and 11 other leaders and activists of the party at a flat in Mirpur yesterday afternoon in possession of 20 homemade bombs.
Nayeb-e-Ameer of Jamaat Prof Mujibur Rahman (former MP of Rajshahi-1) is accused in 45 cases and Jamaat Assistant Secretary General Mia Golam Parwar (former MP of Khulna-5) is accused in 12, claimed police.Jamaat in a statement, however, said the arrests and seizure of the bombs was just a well-orchestrated police play and that their leaders were framed.
Following a tip off, detectives and Pallabi police in a joint drive arrested them and also seized 20 to 25 bamboo sticks and Jamaat books on extremism from the second-floor flat in a building on Road-10 in Mirpur-11.
Beginning around 10:30am, the drive lasted five and a half hours.
Briefing newsmen at the DMP Media Centre, Deputy Commissioner (west) of Detective Branch (DB) Sajjadur Rahman said the Jamaat leaders and activists gathered at the flat to carry out subversive activities in the garment sector ahead of Eid.
The flat is owned by Harunur Rashid, president of Sramik Kallyan Federation, Jamaat's labour front, he said, adding that Harun played a key role in arranging the meeting.
Sajjadur claimed that specially made bamboo sticks were shipped in from Chittagong.
Replying to a query, Sajjadur said the bombs were made locally.
The other arrestees were Kafrul Thana unit Jamaat President Md Taslim, and activists Abul Kalam Azad, Mansur Rahman, Zakir Hossain, Jahangir Alam, ABM Nurullah alias Mohammad Ullah, Abul Hashem, Md Sabbir, Mujibur Rahman Bhuiyan and Ashraful Alam Iqbal.
The Jamaat statement claimed that the way police arrested its leaders from an indoor programme was unjust in the eyes of the law. Police staged a drama of seizing 20 bombs from them, it said.
The party yesterday announced peaceful demonstrations across the country today to protest the arrest and to demand the arrestees' unconditional release.
Source: The Daily Star