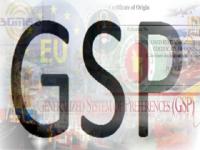 Bangladesh has urged the United States Trade Representative (USTR), a US government agency for developing and recommending trade policy, to consider the Generalised System of Preferences (GSP) review for Bangladesh.
The request for considering GSP review for Bangladesh was formally placed when Bangladesh ambassador to the USA Mohammad Ziauddin made a courtesy call on the USTR ambassador Michael Froman at the latter's office in Washington DC on Wednesday, said a Bangladesh Embassy press release received in Dhaka on Thursday.
During the meeting, both the ambassadors discussed issues related to trade, investment and the GSP review for Bangladesh.
Most of the conditions in the 'Bangladesh Action Plan-2013', seen as a precondition for reinstatement of GSP facilities, have already been implemented by the stakeholders, said the Bangladeshi envoy at the meeting. The few remaining ones are at various stages of implementation, he said.
Taking cognizance of the progress made by Bangladesh within a short time, Ziauddin requested the USTR to take a considerate view in the next GSP review for Bangladesh as the reinstatement of GSP would put into effect the duty-free, quota-free access for Bangladeshi products to US market.
Ambassador Froman acknowledged Bangladesh's many positive steps ensuring safety and security of the workers and upholding their rights as per the law of the country.
The USTR ambassador, however, stressed full implementation of the Action Plan 2013 to ensure the benefits and uphold the rights of all the workers. He also stressed the practice of fair labour practices in Bangladesh.
Both the ambassadors agreed that they and all the stakeholders would continue to work together in the coming days to resolve the trade related issues between the two countries, including the issue of GSP reinstatement to Bangladesh.
Source: Prothom ALo