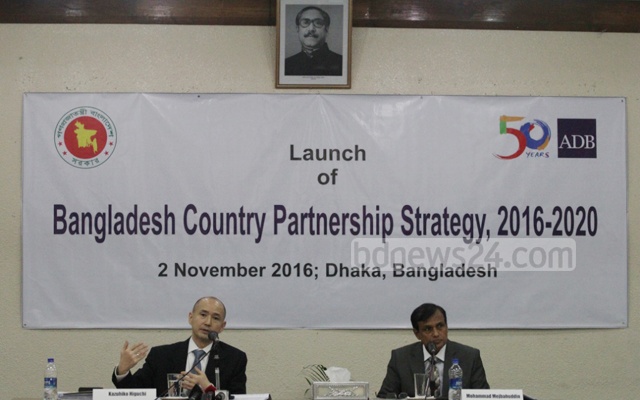 The Asian Development Bank (ADB) has pledged $8 billion in development loans to Bangladesh over the next five years.
The loans, to be disbursed between 2016-2017 and 2020-2021 financial years, are meant for infrastructure, human capital development and climate change alleviation.
Bangladesh has received $5 billion in ADB loans between 2011 and 2015. The latest commitment represents a 60 percent increase from the previous one.
ADB Country Director Kazuhiko Higuchi made the announcement at the launching of 'Bangladesh Country Partnership Strategy, 2016-2020' at the capital on Wednesday.
The loan will focus on communication, energy, urban and infrastructure development; human capital and efficiency development; rural infrastructure and livelihood development and alleviating the effects of climate change, said Higuchi.
The ADB official highlighted Bangladesh's growth rate of 6.3 percent between 2011 and 2015 that now hovers around 7 percent, while speaking on the economy.
He identified macro-economic stability, increasing per capita income, poverty reduction, improvements in energy efficiency and a growing young workforce as the strengths of the Bangladesh economy.
According to him the challenges for Bangladesh, include over-reliance on RMG exports, barriers to private sector investment, weaknesses in infrastructure, skilled worker shortages, rural poverty and climate change.
Senior Secretary to the Economic Relations Division Md Mejbahuddin Ahmed also spoke at the event in the NEC Conference Room in Dhaka's Sher-e-Bangla Nagar.
Government officials and representatives from development agencies were also present at the event.
Source: Bd news24