The BNP-led 20-Party Alliance has called a dawn-to-dusk shutdown for Monday protesting against the 16th Constitutional Amendment empowering Parliament to remove Supreme Court judges on grounds of incompetence or misconduct.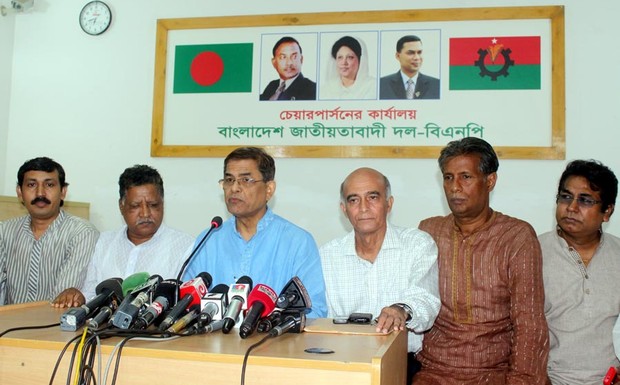 BNP's spokesperson Mirza Fakhrul Islam Alamgir made the announcement at a media call on Saturday at party chief Khaleda Zia's Gulshan office.
"We have been protesting the vesting of the power to sack justices to this illegal Parliament, but the government has turned a deaf ear. People do not accept this amendment," Fakhrul said at the press meet.
He called on the public to observe the general strike peacefully.
BNP's key ally Jamaat-e-Islami enforced a nationwide 24-hour shutdown on Thursday and has another scheduled on Sunday in protest against its leader Delwar Hossain Sayedee's life-in-prison sentence for war crimes.
"Awami League is politically bankrupt and has lost all touch with the public. It passed the 16th amendment to hold on to their illegal power," Fakhrul said.
"This amendment gives one political party, Awami League, the power to remove and impeach judges," he said.
"This is the ultimate politicisation of the judiciary. It will create a permanent fear of justice being denied," the BNP spokesperson said.
Fakhrul said Hajj pilgrims' vehicles, restaurantrs, pharmacies, ambulances, fire brigade and media vehicles will be outside the purview of the shutdown.
Senior leaders of BNP and allied parties were present at the press conference.
Source: bdnews24