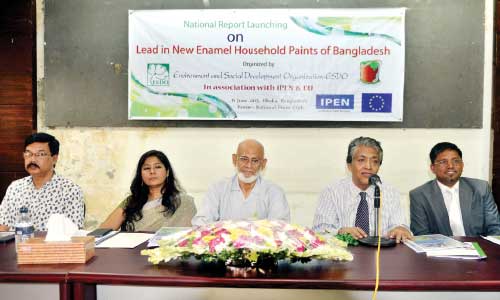 Most of the paint manufacturers in Bangladesh sell paints that contain high levels of the heavily toxic metal lead, causing a serious threat to public health, found a study.
Paint containing lead, usually used in colouring walls, floors, furniture and toys, have serious consequences on the health of children, experts said.
They said high levels of lead exposure attacks the brain and central nervous system, causes kidney damage and even death.
The study, carried out during 2014-15 by Environment and Social Development Organisation and supported by European Union and IPEN, shows that 19 out of 22 brands in Bangladesh sell paints with a lead content above 600 ppm.
The study was unveiled on Saturday at a programme at the National Press Club.
The study showed lead levels remained dangerously high in 15 brands, with one or more paints with levels above 10,000 ppm.
Moreover, the average lead presence was 35,700 ppm in yellow paints, 3,930 ppm in red paints and 3,050 ppm in white paints.
Fifty-six cans of sample paints of 22 brands, collected from markets in Dhaka and Chittagong, were analysed in an accredited laboratory in Europe to complete the study, ESDO said.
The Institute of Epidemiology, Disease Control and Research director Mahmudur Rahman told New Age that lead, as a heavy toxic metal, was dangerous for human health.
'Lead exposure attacks the brain, central nervous system, kidney, increases risk of high blood pressure and even causes death… exposure among pregnant women can cause miscarriage, stillbirth, premature birth and low birth weight, as well as minor malformations. Child's brain development slows if they are exposed to lead', he said.
Bangladesh Paint Manufacturer Association secretary general Samsuzzaman said the size of the Bangladesh paint industry is more than Tk 20 billion.
The local manufacturers produce about 77,000 metric tonnes of paint against a demand for 98,000 metric tonnes.
He said water-based paints were rarely contaminated with lead, but solvent-based enamel paints were found to have high levels of lead.
'It is possible for the manufacturer to reduce lead contamination to zero level in paints within a year if the government comes up with strict regulation and puts embargo on import of raw materials containing lead', Samsuzzaman said.
Dhaka University former chemistry professor Abu Jafor Mahmood said the lead compounds most commonly added to paints are pigments. Pigments are used to give the paint its colour, make the paint opaque (so that it covers well) and protect the paint and the underlying surface from degradation caused by exposure to sunlight.
He said non-lead pigments, driers and anti-corrosive agents are widely available, which can be used in producing the highest quality of paints.
Source: New Age