Shahin Akhter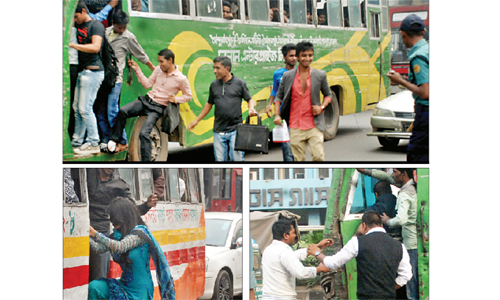 The authorities' failure to address the capital's deteriorating traffic chaos is blamed for the regular loss of lives on its roads.
Non enforcement of the law and traffic rules, that provide virtual impunity to offenders, is at the root of the problem affecting residents' safety on roads.
The helpless residents have nowhere to turn to seek redress or punishment of erring drivers and conductors.
Journalist Zaglul's death Saturday night at the busy Karwan Bazaar intersection while alighting from a running mini bus highlights the serious crisis of traffic management facing the city and its residents.
His sudden death raises several   questions relating to commuter safety in the capital.
As usual the minibus sped away, with fellow passengers and the battery of police around looking the other way, providing safe passage to the erring conductor and the driver, who are still out of the reach of the law.
It's quite common for erring drivers to disappear with buses and minibuses from busy roads after fatal accidents in the capital.
They stop buses and minibuses anywhere and everywhere and not at fixed stoppages to pick and drop passengers endangering their life and limbs.
Conductors often force, even push passengers out of running buses and mini buses.
Banglatimes24.com journalist, 30-year old Sheikh Lovely Haque Labonno, cannot walk without support, since she suffered serious injuries being pushed out of a running BRTC bus in front of the National Press club on December 6, 2013.
Labonno underwent operations 12 tunes on her left leg smashed under a rear wheel of the same bus. She is still under treatment.
Residents blamed non enforcement of traffic laws and rules for the city's deteriorating road safety.
Zaglul, fondly called ZAC by friends, had fallen from the minibus, that was still running, and he was fatally injured.
He had hardly put his one foot on the road when the minibus sped away throwing him down.
A diabetic patient, Zaglul was ceaselessly bleeding from the injury he had received on his head when three passersby took him to a nearby private hospital.
He lay unconscious for 45 minutes or more without receiving any medical attention at the hospital.
Feeling deeply disturbed the three gracious helpers took Zaglul to another hospital at Green Road where the doctors declared him dead.
Zaglul's sudden death on way to a TV channel to participate in a talk show raises several questions relating to the city's deteriorating road safety.
A pertinent question is how the minibus could leave the busy and crowded spot unless the fellow passengers on board and the battery of policemen around looked the other way.
The city's beleaguered commuters find it quite challenging to board or alight from running over crowded buses.
Even during the city police's drive to discourage jaywalking that ended Monday buses and minibuses were seen  dropping and picking up passengers anywhere and everywhere on busy roads and intersections with the police looking the other way.
Lane hopping and dare devil driving make the city roads totally unsafe to all with none to check the issues.
Drivers stop buses on busy roads blocking traffic movement.
Two members of Dhaka Metropolitan Regional Transport Committee told New Age that most of the drivers stop and park buses and minibuses anywhere and everywhere to pick up and drop passengers flouting the rules.
Drivers ignore warnings from the committee not to stop buses except at the designated stoppages, they said.
A common sight is parked buses and mini buses blocking traffic even at Shahbagh, Soanrgaon and other busy intersections.
On duty traffic police described the situation on Kazi Nazrtul Islam Avenue at Karwan Bazaar, Farmgate, Kalabagan, Paltan and New Market crossings  most chaotic.
Bangladesh Road Transport Authority executive magistrate Abul Bashar said that due to manpower shortage no  action can be taken against buses and minibuses stopping anywhere and everywhere even on busy roads.
Dhaka Metropolitan Police deputy commissioner (traffic-west) Imtiaz Ahmed said that the erring drivers cannot be sued as checking their papers aggravates traffic congestion.
No bus or minibus picks up or drops passengers outside the designated stoppages in the presence of police, said DMP joint commissioner (traffic) Mosleh Uddin Ahmed.
Due to manpower shortage it's not possible for the DMP to fully stop the irregularities, he said.
Source: