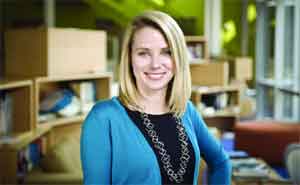 Yahoo has struck a deal to become the default search engine on the Firefox internet browser in the US, replacing Google and its ten-year partnership with the company.
Yahoo chief executive Marissa Mayer called the five-year deal with Firefox's parent company Mozilla "the most significant partnership for Yahoo in five years".
"At Yahoo, we believe deeply in search," say Mayer in a blog post. "It's an area of investment and opportunity for us. It's also a key growth area for us".
Yahoo holds around 10 per cent of the market share for US desktop computers, followed by 20 per cent for Microsoft and 67 per cent for Google.
Firefox is similarly placed, accounting for 10 per cent of US browser use on desktop, tablet and mobile compared to 33 per cent for Google Chrome.
Mozilla confirmed that "Google, Bing, DuckDuckGo, eBay, Amazon, Twitter and Wikipedia will continue to be built-in as alternate search options" but users will have to change the settings to use these.
A spokesperson for Mozilla said: "In most countries, including the UK,  Firefox users will not see a change. In the US, Yahoo will become the default search, Baidu in China and Yandex in Russia."
Yahoo says the partnership will include a redesign of the search engine with a "clean, modern, and immersive search experience".
Different browsers
Method of changing the default search engine on different browsers.
Google Chrome
Click the menu button in the top right of the browser (underneath the minimise, maximise, close buttons) then click 'Settings' and select the service you want under 'Search'.  Click 'Manage search engines…' to add a new one.
Internet Explorer
In the address bar at the top of the browser click the downward facing arrow next to the magnifying glass and click the 'Add' button. You can then select the search engine you want from the gallery.
Safari
Select the 'Safari' menu in the top left of your screen and then hit 'Preferences'. Under the 'General' tab select the search engine you want from the drop-down box. This can also be changed by clicking the magnifying glass in the search bar.
Firefox
On the search to the right of the address bar select the drop down menu next to the current search engine's icon. Select from the list available or click 'Manage search engines…' to add a new one.
Conventional wisdom
As recently as a decade ago, another conventional wisdom reigned. In it, most managers thought telecommuting was an unwise gamble. Wouldn't "work at home" really mean watching Oprah, doing the laundry and from all that flowed from the water cooler?
Judging from today's blog, Twitter, news and talk show outpouring, there is a new conventional wisdom. In it, Marissa Mayer has done the unthinkable. According to various complaints, she is a new mom who is denying women the right to work at home with their families; she has broken agreements that people took for granted; she is swimming upstream, trying to bring back "the old GM" model.
According to Yahoo memo: "To become the absolute best place to work, communication and collaboration will be important, so we need to be working side-by-side. That is why it is critical that we are all present in our offices."
Most intriguing to me is a simple difference: the old conventional wisdom and the new Yahoo memo focus on the business — being productive, collaborative, accessible and innovative.
Google to block ads
Although the bulk of Google's business is predicated on ad sales, the company is now experimenting with a programme that would enable consumers to block ads on their favorite websites for a nominal fee.
Called Contributor, users can now choose to donate between $1 and $3 to 10 websites alongside whom Google is piloting the initiative — including Urban Dictionary, The Onion, ScienceDaily, wikiHow, Mashable and imgur.
Given this donation, users will in turn see a 'Thank you' message and grey pixelated square on each site where an ad might normally appear. The more a user contributes, the more ads are blocked. Google told CNET that it will take the same cut from each donation that it typically charges advertisers to display their ads.
There is also an enticing privacy component to the initiative in that Google Contributors, who will become exempt from targeted online ads, would therefore no longer avail their personal data to website operators, according to CNET.
Such an effort may seem counterintuitive to existing online advertising paradigms, given that businesses are expected to spend $141 million on online ads this year, per eMarketer — of which Google takes home an estimated 32.4 per cent. This trumps competitors — by far — like Facebook (8 percent), Microsoft (2.9 percent) and Yahoo (2.4 per cent.)
However, the program would not necessarily block all ads on a site, a Google spokesperson told Entrepreneur — only the ads that Google itself is serving. (Websites typically partner with multiple third parties in order to sell ads, and can also sell them directly.)
Additionally, the exemptions would only impact a specific Google ad product called Double Click for Publishers.
Thus far, the program only seems to be an experiment of sorts. Wishing participants must either receive an invitation or ask to be waitlisted.
— Internet