Many think Khaleda Zia's arrest will bring back normalcy to the country. But will it be so? I think, not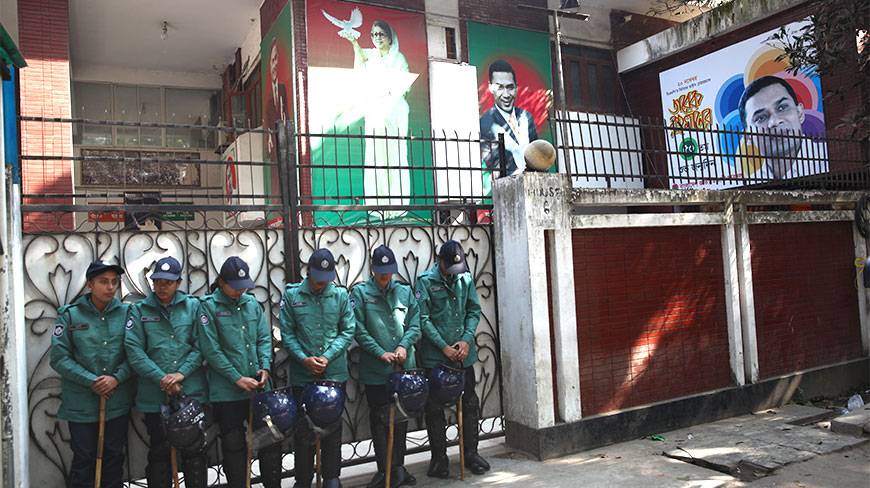 A tactically wise prime minister, Sheikh Hasina, on March 11, indirectly told parliament that the BNP chief — her arch-foe — Khaleda Zia, would face incarceration soon after the court order on her arrest warrant reached the Gulshan police station.
She made this comment while replying to a question from an MP who had asked whether the government would detain Khaleda Zia.
The MPs belonging to the ruling Awami League government and the opposition Jatiya Party have been making frequent demands in parliament for the BNP chief to be arrested for the "genocide" her party has been committing — ie the killing of the nation's people with the use of petrol bombs in an effort to enforce their hartal and blockade.
During a public meeting on March 7, the prime minister said Khaleda Zia would have to face punishment for killing people, all the while terming the BNP chief as a "militant leader" (jongi netri). She also told parliament that Begum Zia wanted to be arrested to "mobilise public sympathy."
Khaleda Zia now faces charges as the principal accused for the murder of the innocent people killed in the Molotov cocktail attacks on public transports.
So, now the question comes down to whether Khaleda Zia will face arrest. Many think Khaleda Zia's arrest will bring back normalcy to the country. But will it be so? I think, not.
Sheikh Hasina is correct, though — Khaleda does indeed want to be arrested. And that is exactly why it is unlikely that we may get to see Begum Zia behind bars … at least for now.
Why? The answer is fairly simple: Since January 6, a majority of the nation's people has become heavily angered at the BNP-Jamaat for their frequent petrol bomb attacks and other subversive activities carried out in the name of their movement.
It is possible that they are not in fact responsible for many of these barbaric attacks, but most of people do tend to point fingers at them. The indefinite hartal-blockade exists only in paper — people have been flouting the strike calls, risking deaths by petrol bombs.
The government has established a tight grip on the opposition, however.
At this moment, the ruling party would like to avoid Khaleda earning the people's sympathy for any action the party might take. It is said that people cannot tolerate tears, even those of a tyrannical ruler.
The sight of a handcuffed Khaleda would definitely earn her the public's sympathy, and that scenario may be a counter-productive one for the government.
And that is why the warrant order against Khaleda is unlikely to reach the Gulshan police station from the Bakshi Bazar court in the near future, unless an especially grievous situation arises with her party involvement. It will only be sent out when the government wants it.
Khaleda Zia's arrest will change the course of the "agitation," there's no doubt about that. The BNP and its allies will then make one demand — Khaleda's release instead of a caretaker government to oversee the next polls.
If released, the government's tight grip will be sure to loosen. People would listen to the "uncompromising" Khaleda, thereby further worsening the political situation. It is also quite likely that the present trustworthy opposition Jatiya Party would have a change of heart and resign from parliament.
On March 12, Hazi Selim, a BNP-turned-AL-turned-independent MP told parliament that Khaleda Zia's arrest may create a different environment.
He said that the military-backed 1/11 had failed as they took actions against Khaleda Zia and Sheikh Hasina — "two hot pirs in Bangladesh."
We have seen Hassan Mahmud and Sahara Khatun become top ranking leaders after Sheikh Hasina's arrest. And we again witnessed Sanaullah Miah become the BNP's voice after Khaleda Zia's arrest.
It is entirely likely that we may see a few more Sanaullah Miahs be created to lead the BNP's hartal-blockade as soon as Khaleda Zia gets arrested. It is a matter of public support, not about finding a leader for a popular movement. Whatever the scenario, Khaleda Zia's arrest will not benefit AL … for now anyway.
Source: Dhaka Tribune