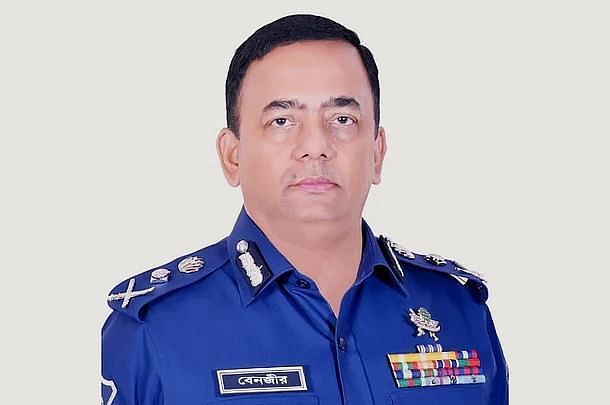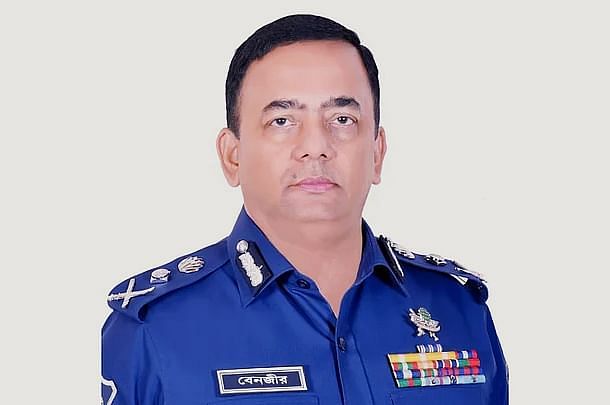 A number of recent incidents of violence such as series of arson attack on public establishments, including office of deputy commissioner and upazila nirbahi officer, police station and outpost, as well as private office, even an incident of snatching an accused from police custody, seem very concerning to Bangladesh Police administration.
On 7 April, while attending a virtual meeting of police high-ups, the inspector general of police (IGP) Benazir Ahmed instructed the senior law enforcement officials to check such incidences strictly.
In the meeting, senior officials at police headquarters, metropolitan police commissioners, deputy inspector generals, deputy commissioners of metropolitan police, superintendents of police and officers in-charge of police station participated.
The IGP said police could use more powerful weapons if firing of rubber bullets seemed ineffective in brining situation under control. Besides, he urged police personnel to keep their morale strong.
The virtual meeting continued from 11:30am to 1:00pm.
Some police officers, who attended the meeting, told Prothom Alo that the IGP gave directions to check violence very strictly. In reply, the colleagues assured him about stringent actions to avert violent situation in future.
Haider Ali Khan, deputy inspector general at police headquarters, told Prothom Alo that the IGP provided necessary instructions to the police officers regarding law and order situation.
During 26-28 March, at least 17 people had died in violence as Hefazat-e-Islam Bangladesh supporters locked in clashes with police and ruling party men while protesting against the Indian prime minister Narendra Modi's visit in Bangladesh.
Moreover on 5 April, Saltha upazila of Faridpur district witnessed mob attacks on some public establishments protesting against the government-run anti-Covid-19 drives.
Given the situation, the IGP met senior police officials on 7 April.
Several police officers, who participated in the meeting, said that the IGP expressed his dissatisfaction as the 'Hefazat-led violence' was out of control amid rounds of rubber bullet firing. He instructed police to arrest the people responsible for the three-day violence.
The IGP told Faridpur police super Md Alimuzzaman that the security response to the 5 April arson attacks should have been better.
Warning about possible violence in Chattogram, Khulna, Rangpur and some other districts, he instructed police to remain alert.
He said Hefazat activists snatched their leader Mamunul Haque from police custody and waged violence in Sonargaon area of Narayanganj because of lax security measures.
The IGP put emphasis on probing the security measures during the recent violence–whether there were faults or shortcomings and the reasons behind successful or failed operations. He said action would be taken following the probes.
The IGP instructed police to take preventive steps so that Hefazat could not hold a rally in Munsiganj on 8 April.
Police personnel must wear helmet and not approach alone before conducting any operation, the IGP said.
Police's role in containing Covid-19 infections was also discussed in the meeting.
*This report appeared in the online version of Prothom Alo, has been rewritten in English by Sadiqur Rahman