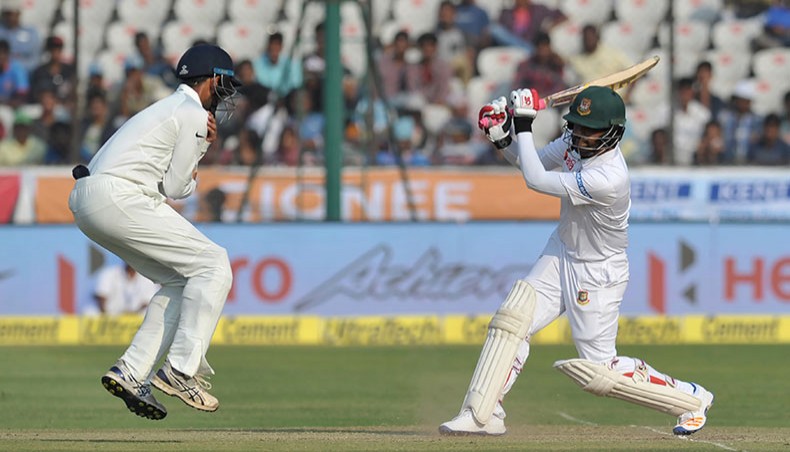 Mehedi Hasan said he really felt very much upset when he dropped a catch during the two-day warm-up match before Bangladesh's on-going Test against India in Hyderabad.
His misery doubled when he missed an easy run out chance on the opening day of the Test that highlighted Bangladesh's struggle against the home side with bowling and fielding.
Mehedi was determined to do something extraordinary to make up for the mistake and thankfully he could do it on the second day. His catch of Ajinkya Rahane diving to his left at full stretch was one of the rare bright moments for Bangladesh on the first two days of the game when they mostly struggled.
'I realised how a bowler could feel when I dropped a catch in the practice match,' Mehedi said in the press conference on Friday. 'So I was determined not to repeat the same mistake. After my run out miss, I thought I should even use the 50-50 chances for the 100 per cent benefit of the team.'
After another enduring day in the field at Hyderabad, Bangladesh needed now the same realisation from their senior players if they are to give them any chance in this Test match.
Ironically, they were mostly let down by their captain and vice-captain in the game where India were in full command after the second day with 687 runs on board and one wicket in the bag.
It was expected India would put a big score but Bangladesh also had their moments with all limitations. Taijul Islam and Mehedi bowled really well to share five wickets between them but they were denied more success by senior players.
Mushfiqur Rahim showed why his wicketkeeping has long been rated as second grade when he missed a simple stumping chance of Wriddiman Saha and his deputy Tamim Iqbal dropped a catch of Ravindra Jadeja, which he should have taken at long on.
Saha, who was on four during Mushfiq's unexpected gift, went on to score an unbeaten 106 while Jadeja, who was on 40 during Tamim's drop off Mehedi, added 20 runs to his tally.
They could only compound Bangladesh's misery after the visitors came into the second day's play hoping to restrict India to less than 500 runs to create some opportunities for them.
Mehedi said Mushfiq kept on encouraging his bowlers despite his personal fault which at least kept them moving in the field. Many in the Rajiv Gandhi International, however, argued that the skipper also had some lesson to take from his young team-mate as far as his own performance was concerned.
Mushfiq and Tamim now required the same realisation that led Mehedi to convert a flash of Rahane into an outstanding catch.
The wicket showed there was no real demon on it with a double century, two centuries and three fifties and Indian batsmen proved it would not be difficult for Bangladesh to bat out a day or two.
It would at least earn them a creditable draw and for that a lot depends on how their blunder-prone leadership group responds with the bat.
Source: Dhaka Tribune