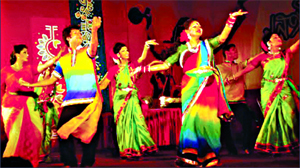 A three-day music  festival  organized by  Bangladesh Shilpakala Academy jointly  with    Bangladesh Sangeet Sangathan Samannay Parishad concluded at the open–air  stage   of the academy  on Tuesday.
Around 35 cultural organisations and music troupes from across the country performed at the festival which mainly featured patriotic and traditional songs and synchronised dance recitals.
The festival was inaugurated by veteran jatra artiste Gauranga Chandra Aditya on Sunday, in presence of Ranjit Kumar Biswas, secretary of cultural affairs ministry, Ramendu Majumder, global e president of International Theatre Institute, Liaquat Ali lucky, director general of BSA, Rezwana Chowdhury Bannya, vice-president of Bangladesh Sangeet Sangathan Samannay Parishad, and others.
A good  number  of  enthusiastic audience enjoyed the festival on all the three days which began everyday at 5pm and ran until 9pm. Besides famous patriotic songs, the traditional songs by folk bards were major attractions for the audience.
Songs of Fakir Lalon Shah, Bijoy Sarker, Radharaman, Shah Abdul Karim, Ramesh Shil, Kanai Lal Shil, Hason Raja and some others presented by singers from across the country, in pleasingly diverse styles, became a matter of rejoice for the urban audience.
Moreover, categorical music such as people's songs, bhawayia, maijbhandari and gambhira also thoroughly entertained the audience.
Among the music organisations that performed at the festival are Sangeet Bhaban, Surer Dhara, Bashuria, Nibedan, Bangladesh Academy of Fine Arts, Sargam Lalitkala Academy, Swapnakuri, Benuka Lalitkala Academy, Bangladesh Udichi Shilpigoshthi, Lokangan, Rabirag, Uttarayan, Gitangali and Padat ik Sangeet Sangsad.
Besides the group and chorus recitals by the artistes of various music organisations, there was a number of noted singers who performed solo at the festival. Among them were Anima Mukti Gomes, Abu Bakar Siddiqui, Timir Nandi, Ajijur Rahman Tuhin, Salma Akbar, Indra Mohon Rajbangshi, Shammi Akhter, Akramul Islam, Yakub Ali Khan, Priyanka Gope, Bappa Majumder, Sumon Chowdhury, Khairul Anam Shakil, Lily Islam and Sajed Akbar.
Source: Weekly Holiday