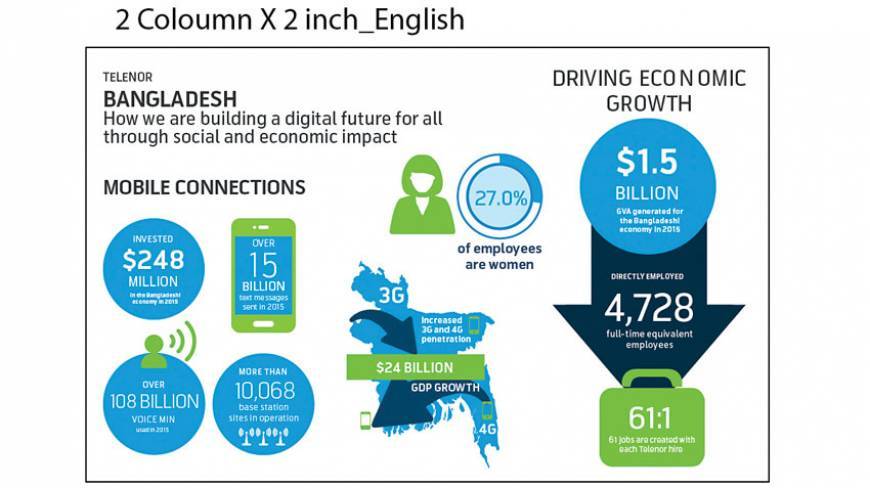 Telenor has invested in Bangladesh $1.18bn over the last five years, of which $248m was alone in 2015, said a report of the group published recently.
The Telenor's total global investment was $3.2bn in 2015, including $3.1bn of capital expenditure $1.8bn of the capital expenditure was attributed to Asia.
Telenor Group recently unveiled its first Global Impact Report quantifying the socio-economic impact of the its contributions to 13
markets across the world, including six in Asia with Bangladesh
being one of its major Asian markets.
In 2015, Grameenphone directly employed 4,728 full-time equivalent staff in Bangladesh. Of them, 73% were male; 27% were female; and 99.7% were Bangladeshi nationals.
In addition, an estimated additional 169,900 indirect jobs were generated through its supply chain in Bangladesh.
Through increased digital access for female subscribers in Bangladesh, Grameenphone has contributed $7.48bn to the Bangladesh GDP between 2011 and 2015.
The report includes a detailed study of the socio-economic effects created by Telenor as one of the largest mobile operators in Bangladesh, its instrumental role in digitisation of Bangladesh and other Asian economies, including India, Malaysia, Myanmar, Pakistan, and Thailand.
The Global Impact Report sheds light on how Telenor's operations contribute towards this goal in Bangladesh.
Sigve Brekke, President and CEO of Telenor Group, said: "In Telenor, we believe that connected societies are empowered societies. In a changing digital landscape, it is imperative that governments, businesses, and organisations work together to develop frameworks that stimulate growth and create shared value."
This report aims to contribute to a constructive dialogue on how to continue realising the value and the opportunity of digital future.
Grameenphone CEO Petter B Furberg said: "It is encouraging to see how Grameenphone operations have made a significant impact on the socio-economic growth of the people of Bangladesh as well as on the key financial indicators of the country."
"As Grameenphone shifts its focus on transforming the digital landscape in Bangladesh we expect to even greater social empowerment and development," said the CEO.
Telenor is committed to its journey in Bangladesh and Grameenphone as its subsidiary is proud to play a core part of this nation's enlightenment.
Source: Dhaka Tribune