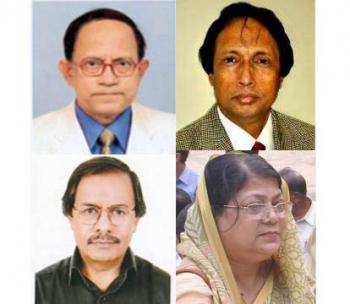 President Abdul Hamid has formed a six-member search committee to find potential candidates for manning the next Election Commission.
President's press secretary Joynal Abedin told Prothom Alo president Abdul Hamid has formed the six-strong search committee and a letter in this connection has already been sent to the cabinet division.
Officials said the cabinet division will sent a synopsis in this regard to the Prime Minister's Office for the prime minister's approval and then it will again be sent to the president's office.
After all these formalities, the cabinet division will issue a gazette disclosing the names of the search committee members.
The probable members of the search committee are: Bangladesh Public Service Commission chairman and former election commission secretary Muhammed Sadique, Comptroller and Auditor General Masud Ahmed, Dhaka University's English literature professor Syed Manzoorul Islam and Chittagong University pro-vice chancellor Shireen Akhter. Apart from them, two High Court judges will be included in the committee and the chief justice will select the two judges.
It is to be noted that the tenures of the present set-up of the election commissioners including the chief election commissioner are set to expire early February.
Source: Prothom Alo