Prices of several essential commodities have gone up in the capital this week over the week gone by.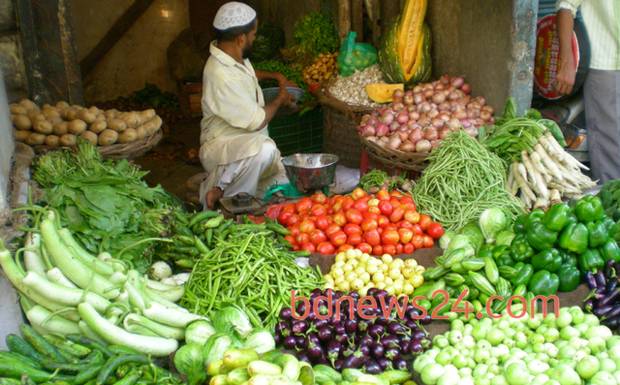 According to buyers and sellers, onion, potato, lentil, palm oil, ginger and gram were selling at higher rates this week.
Vendors said prices of the commodities might increase further with Ramadan approaching.
On Friday, local variety of onion sold at Tk 30-35 a kg and imported one at Tk 25-30 against Tk 25-30 and Tk 20-25 respectively.
According to Trading Corporation of Bangladesh, the government agency that monitors essential commodity market, prices of onion rose by 18.18 percent in the last one month on average.
Onion prices crossed Tk 100 towards the end of the last year, when the local stock was exhausted and prices of the commodity rose in India.
But the rates started falling with local onion arriving at the market.
However, prices of the item rose again as it already got to the hand of the businessmen from the farmers.
A trader at Karwan Bazar in the capital, Forkan Miah, said there was little chance for onion prices to get down.
"Gradually its prices will rise since Ramadan is ahead."
The Arabic month of Ramadan, when consumption of several commodities including onion, garlic, gram and spices usually gets up, will begin late in June.
On Friday, potato was selling at Tk 14-16 per kg against Tk 12-14 last week.
Farmers were protesting against low prices of the commodity by throwing it on the street just a month back.
Karwan Bazar vendor Rafiqul Islam said potato prices started rising 'after the item reached cold storages from the field'.
TCB says potato prices rose by 15 percent in the last one month.
Buyers said per litre of palm oil was selling this week at Tk 80-82 against Tk 75-78 last week.
Imported variety of lentil per kg cost Tk 86-72 against Tk 86-72, small-sized lentil Tk 82-85 against Tk 80-82, gram Tk 50-55 against Tk 50 and ginger Tk 180-250 against Tk 120-180.
Prices of several varieties of vegetables and fish also increased this week.
Source: bdnews24