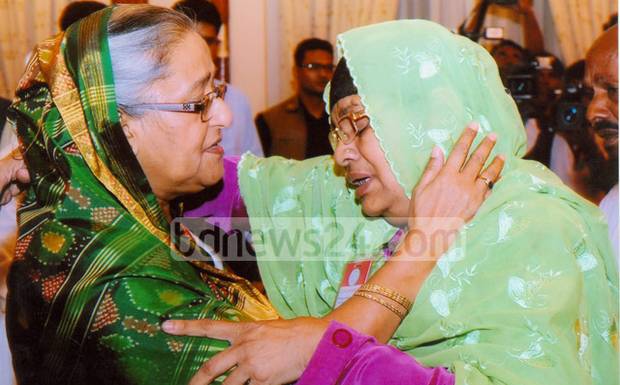 Families of Narayanganj seven-murder victims say they have been assured of justice after speaking to Prime Minister Sheikh Hasina.
Relatives of slain city councillor Nazrul Islam, Moniruzzaman Khan Swapan, driver Jahangir, 'Tajul', and 'Liton' met Hasina at the Ganabhaban on Monday.

After the meeting, Nazrul's father-in-law Shahidul Islam said, "The prime minister told us that the perpetrators will be arrested no matter wherever they are."

The abduction of seven men, including Nazrul and lawyer Chandan Kumar Sarkar, was reported Apr 27.

Their bodies were found floating on the river Shitalakhyya several days later.

Quoting the prime minister, Hasina's special aide Mahbubul Hoque Shakil told reporters said, "No-one will be spared regardless of their political affiliations. [The government] is determined to ensure justice."

Hasina told the families that Narayanganj public and police administrations were overhauled to make sure that no-one would interfere with the investigation.

The family members entered the Ganabhaban just after 8pm and spent around an hour with her.

Chandan's family met the prime minister on Sunday.

The prime minister told them her government would do everything to put the perpetrators of the crime on trial.

Nazrul's father-in-law pointed the finger at RAB for the crime. On Monday, he claimed the elite force had helped the prime suspect Nur Hossain escape to India.

Three RAB members, including disaster management minister Mofazzal Hossain Chowdhury's son-in-law former Lt Col Tarek Sayeed Mohammad, were removed from the force and later forced to retire.

The High Court on Sunday ordered the arrest of the three former RAB officers.
Source: Bd news24