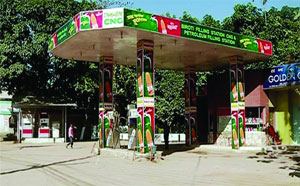 Petrol pumps are losing business for want of regular supply and also from a sharp drop in their sale as less number of motor vehicles are venturing out on the roads and highways fearing attacks that may end up in damage or burning of the vehicles.
This is one aspect of the setback to business. On the other hand, collecting fuel from depots run by Padma, Mehgana or Jamuna Oil is also facing setback from fear of arson that the opposition activists enforcing the blockade and shutdowns may set on the delivery vehicles.
The government is deploying police and BGB to give protection to the oil tankers but the overall environment is not supportive to run free business. Even angry activists may set fuel station on fire and the opposition is blaming the government agents for violence including arson to put blame on them.
This is a highly volatile situation and business in inflammable materials is all the more difficult.
Bdnews24 adds: interruption in transportation of all kinds of fuels and the fall in sale are impacting the business as lesser number of motorists are venturing out. Retailers said they cannot collect oil from the depots regularly fearing arson.
On the other hand, sales from pumping stations have fallen to the lowest even not worthy of keeping the station open weighing the risks.
Police are guarding the pumps in the violence-prone areas but this is not enough to bring the motorists out of fear. Pumps on the Dhaka-Chittagong highway, in the northern districts and in greater Sylhet are facing greater uncertainty.
Khaleque and Sons Filling Station on Dhaka-Chittagong highway collect oil regularly from Meghna Petroleum Depot in Chandpur, but it is really difficult to guard the tankers all the way on long distance. Such is the case with many others.
Only a limited supply is coming to stations braving the odds. .
Caption: Petrol pump owners in Bangladesh are facing mounting losses in the last two weeks due to the BNP sponsored transport blockade.
Source: Weekly Holiday