Construction of a 'Shaheed Minar' remembering the martyrs of the 1952 Language Movement in Bangladesh has begun at Paterson City in New Jersey.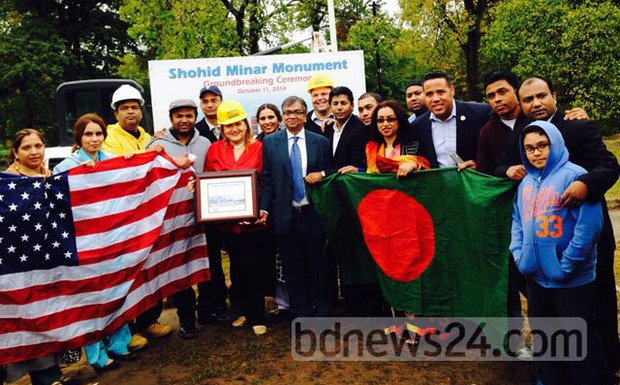 It would be the second martyr's memorial in US after Texas, honouring Bangla language as well as Bangladeshi community.
Bangladeshis sacrificed their lives and established Bangla as their state language on Feb 21, 1952.
The UNESCO in 1999 had declared Feb 21 as the International Mother Language Day.
Bangladesh mission in New York says a ceremony to mark the beginning of the construction work took place on Saturday at Paterson City.
Consul General of Bangladesh in New York Md Shameem Ahsan was present as chief guest.
Mayor of Paterson City Jose Torres, local councilmen, representatives from Passaic County Office, elected US Officials, Councilman at Plainsboro Township New Jersey Dr Nurun Nabi and members of the Bangladesh community were present.
The mayor highly appreciated the Bangladesh community in Paterson whom he recognised as "an integral part of the city".
The consul general thanked the mayor of the Passaic County Board, project partners and the community leaders for their "noble initiative and support".
The Passaic County granted about $150,000 for the project while the Paterson City Council allocated the land at the Westside Park for construction of the Shaheed Minar, the foreign ministry said.
"It is to honour Bangladesh community in Paterson City and to acknowledge the multicultural significance of the mother tongue of the diverse immigrant communities," it added.
The construction is expected to be completed before Dec 16, tge Victory Day, when the Shaheed Minar will formally be unveiled.
Source: bdnews24