The EC should have been in a better position to prevent abuses as the polls went on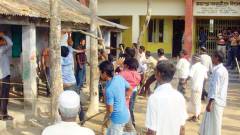 We are disappointed the acting chief election commissioner has expressed "100% satisfaction" with the fourth phase of the upazila elections which were held on Sunday.
As four people were killed and dozens injured in poll–related violence, there is plenty of reason to be dissatisfied.
It is especially concerning that the latter two phases of these polls in particular have seen an increase in violence and widespread allegations of irregularities, including ballot box snatching and rigging attempts. Polling had to be suspended at 32 polling centres in 11 of the 91 upazilas where elections were held this week.
Incidents of electoral irregularity or violence are never acceptable, but there is even less excuse for the number of incidents growing as the four phases of these polls have taken place.
The EC should have been in a better position to prevent abuses and deter perpetrators as the polls went on. Instead, by acting slowly or only after complaints have been received, it has shown a regrettable degree of complacency in standing up to election abuses.
We call on the EC to act firmly and speedily in response to all the allegations it has received.
Allegations involve activists and candidates from and amongst all the parties, but there is also a concerning pattern that as the number of reported abuses have increased, so has the number of AL wins.
For its own credibility, the government must support the Election Commission in taking a stand against all allegations of poll irregularities. Anyone, from whatever party, found to be involved in violence must brought to justice.
Source: UNBConnect