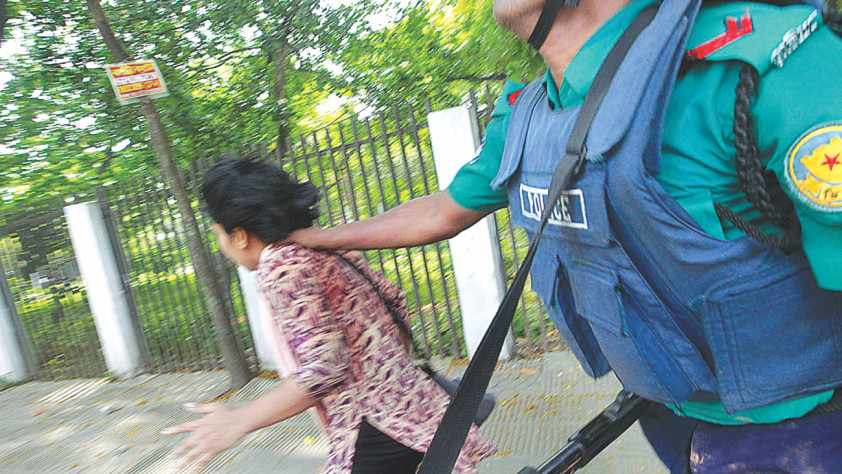 Terror was written all over her face.
She looked like a doe trying to run away from the tiger's paws. And then the brutes came thundering down, kicking and beating her, knocking her down on the pavement. That is what our police force did to this girl who was there to protest the sexual assault near TSC on Pahela Baishakh, the Bangla New Year.
What a gift from the police on the Mother's Day!
And what was her "crime"? She threw an earthen pot on an armoured personnel carrier after police swooped on students who were protesting police failures to arrest those sex predators.
We have seen the videos and still pictures of Sunday's assault time and again and shuddered in aghast, thinking how brutal our police force that we raised with our tax could be on our children. We saw them hitting a young boy of about 20 with a truncheon with so much force that the stick got broken. The truncheon fell right across the forehead of the lean boy and his body wreathed with agony. I wonder whether he had any brain injury.
They were all commies, as the capitalists would taunt them. They belonged to the Bangladesh Chhatra Union, the leftist student organisation. Interestingly, when numerous girls were groped and molested by a group of boys at TSC, no organisations other than Chhatra Union protested it. The ruling Awami League's student front Bangladesh Chhatra League remained mysteriously and shamefully silent.
And what was the Dhaka University's stance? The vice chancellor, AAMS Arefin Siddique, after a lot of protests had been made, came up with the explanation that while it is a natural tendency of protesters to overdo, the administration always plays things down. He also said if even 10 percent of what the media reported was true, then it would be very condemnable and embarrassing!
Police who so valiantly attacked the protesters on Sunday also claimed there was no such incident and no sexual assault and that only some "pushing and shoving" happened during the New Year celebration. As if shoving a girl is okay with them. Not a single criminal has been arrested.
So when police swooped on the protesters, it only reflected the government and the administration's indifferent attitude towards the New Year incident. We are shocked because we as civilised human beings expected rational reaction from the authorities. We should not have.
Suddenly, I remember the 2013 incident in Rajshahi where one brave woman rescued a police officer who came under brutal attacks by Jamaat activists.
Source: The Daily Star