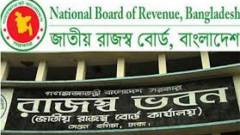 The government may set the revenue earning target from National Board of Revenue at Tk2,03,152 crore for the next fiscal year,
with the highest from value-added tax.
The likely target is Tk26,782 crore more than the original target of the current fiscal year and Tk53,152 crore than the year's revised target.
As of now, the lion revenue share came from income tax. But the government now wants to shift its focus to VAT.
In the fiscal year 2016-17, the VAT wing alone will, therefore, have to mobilise around 37.5% of the total revenue target.
Official sources said of the total target, around Tk75,743 crore will come from VAT, around Tk73,600 crore from income tax and Tk53,600 crore from customs duty in next fiscal.
To achieve this large revenue target from VAT, NBR says it will focus on expansion of the VAT base. Efforts like bringing shops at upazila and union levels under the VAT system have been taken to this end.
It will also make the use of Electronic Cash Register machines mandatory for the major shops from next fiscal year.
The government will also put attention to preventing loopholes in VAT collection and will take necessary steps against VAT evasion to reach the gigantic target, officials said.
This fiscal year (2015-16), the NBR has so far mobilised Tk1,05,432 crore revenue while the year's total revised target is Tk1,50,000 crore.
Of the amount, the customs wing has collected Tk32,338.05 crore, VAT wing Tk39,915.43 crore, and income tax wing has collected Tk53,436 crore.
Source: Dhaka Tribune