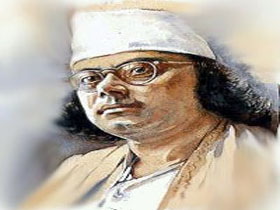 The 115th birth anniversary of National Poet Kazi Nazrul Islam will be celebrated across the country on Sunday.
The government and various socio-cultural and political organization have chalked out elaborate programmes to observe the day.
The programmes include placing of wreaths at the poet's grave on the premises of Dhaka University Mosque, discussions, rallies and cultural functions.
Born on May 25 in 1899 at village Churulia in Burdwan district of West Bengal in India, Nazrul through his fiery poems had inspired the people to fight against injustice and repression of the colonial rule.
Nazrul's songs and poems were also great sources of inspiration for the freedom fighters during the Liberation War in 1971.
President Abdul Hamid and Prime Minister Sheikh Hasina have issued separate message highlighting the colourful life of the poet and his contributions to Bengali language and literature.
In his message, President Abdul Hamid said" Nazrul's writings make us vocal in establishing rights of oppressed and deprived people, teach us how to stand against injustice".
Prime Minister Sheikh Hasina in her message said Nazrul enriched Bengali language and literature through his writings.
She said his poems and songs inspired the people of the sub-continent in the anti-British movement as well as the freedom-loving people of Bangladesh in their struggle for independence from the oppressive rule of Pakistan.
Special programmes on Nazrul's works, including his plays, poetry and songs, will be broadcast on TV channels and radio stations marking the national poet's birthday.
Nazrul Academy has chalked out a three-day programme to celebrate the 115th birth anniversary of National Poet Kazi Nazrul Islam.
Source: UNBConnect