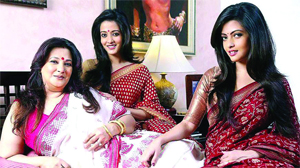 Indian film actress Moon Moon Sen has  expressed her desire to visit the ancestral home of  her  mother  Suchitra sen  in Pabna.
Bangladesh government has  cleared  Suchitra's  ancestral  house recently from  the  occupation  of  a  orphanage.
Born in 1931, Roma Dasgupta Krishna, better known as Suchitra Sen, spent her childhood in the house in Pabna's Hemsagar Lane before her family moved to India during the 1947 Partition.
A report, published in Kolkata based daily newspaper Songbad Protidin on July 18, says, Moon Moon Sen will visit the ancestral home along with her two daughters Raima Sen and Riya Sen.
According to the report, Moon Moon further said: "I cant  express my gratitude to the Bangladesh government for rescuing the home. As a reservatory of Suchitra Sen is going to be opened in the house, the decision will certainly make Suchitra Sen fans from the both the Bengals very happy." She expressed her keen interest to donate some rare photographs and belongings of Suchitra Sen to the reservatory.
Suchitra Sen's ancestral home in Bangladesh's Pabna district was finally freed on July 16 from the clutches of the Imam Ghazali Institute after more than a three-decade tussle.
Source: Weekly Holiday