With less than 24 hours to go before Bangladesh and India close a 68-year chapter in their history by putting an end to the territorial anomalies known as chhitmahals, some exclave dwellers are saying they are being left behind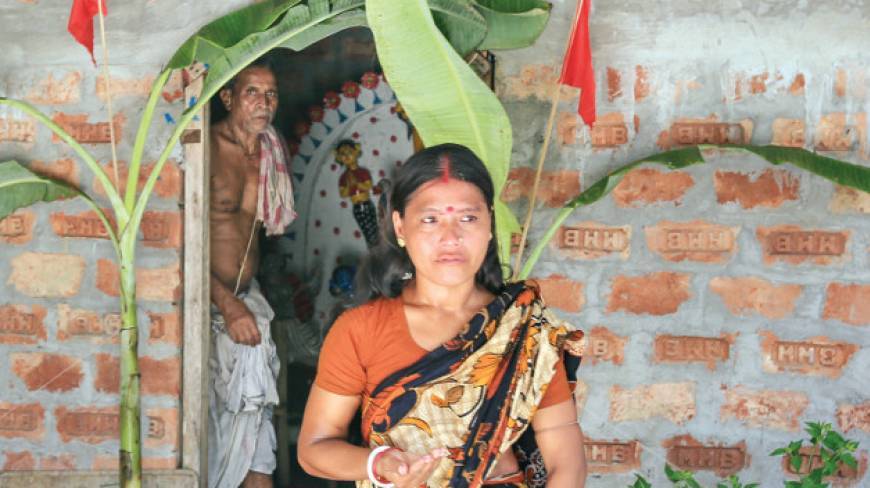 Exclave residents who say they were left out of a population survey – and even forcibly barred from participating in it – are worried they will not be able to choose their nationality, a privilege conferred on them by the recently finalised Land Boundary Agreement.
Exclave residents who are on the survey list are entitled to choose whether to take either Bangladeshi or Indian citizenship.
For those who are not on the list, the prospects for a future in India are slim.
Even for those on the list – indisputably Indian citizens – the road "home" to the Indian mainland is less welcoming than they had expected.
Listed exclave dwellers who previously elected to remain in Bangladesh cannot change their decision at this point and opt for India instead, said Laila Muntezari Deena, upazila executive officer of Panchagarh Sadar.
By contrast, those who earlier opted for India are welcome to change their choice by 5pm on July 31, she added, meaning that Bangladesh will welcome the erstwhile Indian exclave dwellers if they decide at the eleventh hour to remain here and become Bangladeshi nationals.
The decision was made at a conference of the Join Survey Committee held on July 23.
Even more worrisome is that some exclave dwellers say they were never surveyed. They are therefore not on any list and after tomorrow their nationality, and indeed their right to apply for citizenship will enter a grey area.
To compound the problem of unsurveyed exclave dwellers are those who say that they were surveyed but their names were dropped – intentionally or due to clerical errors – from the final survey committee list.
The Dhaka Tribune reported on July 26 that some exclave residents in Kurigram were harassed and barred from getting their names on the survey list.
These exclave dwellers are deeply concerned about the future and fear being regarded as stateless.
Those who claim to have been left out of the head count in 2011 say they were not able to get on the new joint survey – held from July 6 to July 16 – either.
While the chief of the Bangladesh survey team, Deputy Commissioner of Lalmonirhat Habibur Rahman rubbished claims that some exclave residents were left off or dropped from the list, the Dasiar Chhara exclave United Council claimed that a mere tenth of those who wanted to go to India managed to get on the list.
Just 300 out of some 10,000 Dasiar Chhara residents are currently listed as having opted for India. The council claims closer to 3,000 want to go to India.
The survey report does not mention the number of people left off the list.
Rabbul Alam, a resident of Dahala Khagrabari exclave, said around 1,100 people out of a total of 5,000 were left out of the survey in his exclave.
Alam, also the president of exclave Citizen Committee, said those not on the list were not given any advice from the Bangladesh-Indian Joint Survey Committee.
Shamsul Azam, asistant deputy commissioner of Panchagarh district, said: "It is a very complicated situation because there is no official instruction on what will become of those who are not on the list.
"We, however, have not received any official complaints from those not on the survey list," he said.
Shamsul explained that the new survey was conducted on the basis of the original head count taken in 2011. The 2015 joint survey offered no room to include new adults on the list: only infants and spouses born or wed to listed exclave dwellers since 2011 were included.
Shamsul placed the responsibility for failing to get on the list upon the unlisted exclave dwellers themselves, saying that a massive awareness campaign had been conducted in 2011.
Rajendranath Dev Singh, 50, a resident of Kothajni exclave, says he wants to become an Indian citizen but failed to get on the list. But because he, his wife and six family members were excluded from the list, they do not have the option of going to India.
He said all of his relatives live in India but he is stuck in Bangladesh because he and his family failed to get on the survey list.
Earshadul, 26, lives in a 14-member joint family that includes his wife, children, elder brother, 30, and his brother's wife. He claims they were all listed in the head count of 2011 but the names of only five family members appeared on the survey committee list.
Earshadul, whose name was dropped from the list, discussed his situation with the Joint Survey Committee but they were not able to offer a solution to his problem.
"Nationality is a very precious thing… especially for exclave residents. What will be my fate if I do not get my identity?" Earshadul asked.
Juel Islam, 20, a resident of Dahala Khagrabari, is an agricultural worker whose family of four was dropped from the list. He is worried about what that will mean for their future. He is worried about being regarded as a stateless person.
"I want to live in Bangladesh but I was not told how to secure my citizenship by the survey committee."
Source: Dhaka Tribune