Number of cattle from India much lower than previous year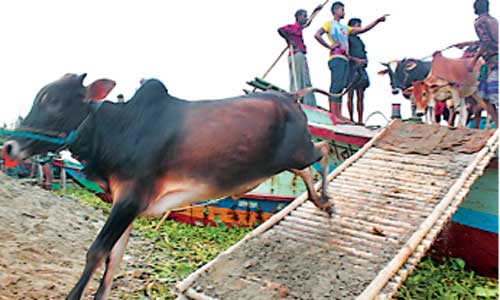 Makeshift and permanent cattle markers in the capital and elsewhere in the country have started to witness inflow of sacrificial animals, with less than a week left for Eid-ul-Azha.
Traders from different parts of the country are heading towards Dhaka in trawlers, engine boats and trucks with their cattle hoping to get better prices.
Eid will be observed on September 25.
A large number of cattle from India used to meet the country's demand during Eid-ul-Azha in the past but customs officials and reports from the bordering districts have said the inflow of Indian cattle is much lower this year — not more than 20 per cent of the previous year.
Fisheries and livestock minister Mohammad Saidul Haque, however, at a discussion in the capital on Thursday claimed there would be no crisis of sacrificial animal in the country during Eid.
In Dhaka, cattle markets have been set up at 23 designated places in DMP and Dhaka district areas and the markets are going to begin today.
'I and three other traders have brought 24 cattle to sell in Dhaka,' trader Md Abdur Rob from Meherpur said at Postogola in the city.
He, however, said that they had to buy the animals at a higher rate and the cost of transport was higher than the previous year.
Gabtoli Cattle Market director, Rakib Imran, also spokesperson of the cattle market lease holders, said the markets had already become vibrant.
He said it was not possible right now to say whether there would be any crisis of animals in the markets.
He said that a good number of traders had contacted them to bring their cattle to the market.
Reports received from bordering districts said the inflow of Indian cows and buffalos through the borders was still much lower compared with the previous year while Eid-ul-Azha was near at hand.
The Indian cattle inflow fell drastically following Indian home minister Rajnath Singh's April 1 direction asking his Border Security Force jawans to put a stop to cattle smuggling across the India-Bangladesh border.
Reports, quoting cattle traders, sources in the Border Guard Bangladesh and customs department, say cattle inflow increased slightly in late August but the number was much lower than what it was the previous year.
Bishwanath Kundu, the customs excise and VAT assistant revenue officer (domestic animal duty corridor) at Navaran in Jessore, said a total of 6,208 cattle entered using five khatals, a place for keeping cattle near the frontier, under him in August this year while the number was 50,400 in 2014.
New Age Correspondent in Chittagong reported that a good number of cattle arrived at markets under Bibirhat under Panchlaish police but the traders are asking high prices compared to last year.
Kamal Uddin, who had been looking for a bull at Bibirhat Market, said the sellers were asking much higher than the previous year cashing in on shortage of cattle in the market.
Chittagong district livestock officer Abdul Hye said 2.20 lakh bulls and 1.50 lakh goats were ready to come to the markets in Chittagong.
Our Correspondent in Rajshahi reports that a huge number of sacrificial animals were brought to different markets in Rajshahi and the crowd was growing every day since Wednesday.
This year, the demand for sacrificial animals has apparently increased as the wholesalers are sending large consignments to Dhaka and Chittagong from Rajshahi.
Local traders and farmers, however, are apprehending losses due to influx of cattle from India.
Humayun, a cattle trader of Naohata under Paba in Rajshahi, who fattens bulls-calves and sell them during Eid-ul-Azha, said he spent a lot for fodder and round-the-clock care for his cattle.
There will be no profit because of the cheap cattle smuggled from India, he apprehended.
Our Correspondent in Barisal reported that the cattle markets in the city would begin tomorrow.
Our Correspondent in Kurigram reported that a good number of Indian cattle were entering into Bangladesh though the number was much lower than that of the previous
year.
Customs officials in Kurigram said a total of 15,973 cattle entered the district in the first 15 days of September.
Mozammel Hossain Sabary, a cattle farm owner under Kurigram municipality, feared that he would not get expected prices for his animals as a good number of Indian cattle were arriving in the local
markets.
Source: New Age