SIDDIQUE ISLAM | March 25, 2020 12:00:00
---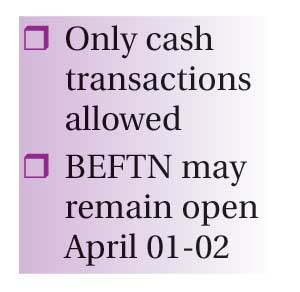 All the scheduled banks will be allowed to make only cash transactions through the counters or online as the central bank has decided to suspend operations of its systems during the holidays.
But the banks will not be allowed to transfer funds during the vacation.
"We've acted in line with the government's decisions," a senior official of the Bangladesh Bank (BB) told the FE while replying to a query.
He also said there is no need to keep open three systems of the central bank as the banks are allowed to provide only cash related transactions during the vacation.
Currently, the banks are allowed to transfer their funds using the Bangladesh Bank's Bangladesh Automated Clearing House (BACH) and the Real-Time Gross Settlement (RTGS) system.
The BACH, the automated payment systems platform, has two components-the first is Bangladesh Automated Cheque Processing Systems (BACPS) and the second is Bangladesh Electronic Funds Transfer Network (BEFTN).
The operations of National Payment Switch Bangladesh (NPSB), however, remain active round the clock to make all transactions using alternative delivery channels (ADCs), according to the central banker.
The ADCs include ATM (automated teller machine), POS (point of sale), e-payment gateway and mobile financial services (MFS) through which a customer can have access to financial services.
The central bank has already asked the banks to provide services on limited scale from March 29 to April 02 by keeping open their branches from 10:00 am to 1:30 pm.
Cash transaction can be made from 10:00 am to 12 noon each working day.
The central banker, however, said the BB has taken a decision to keep open the operations of BEFTN from April 01 to April 02 to facilitate fund transfers of both public and private entities.
A circular is expected to be issued today (Wednesday) in this regard, the BB official hinted.
On the other hand, senior bankers opposed the BB's decision on suspension of operations of three systems claiming that the decision will hamper fund transfer including distribution of a portion of inward remittances.
"We will not be able to transfer dividend of shares to the beneficiaries' accounts if the operations of BFTEN remain suspended," a senior executive of a leading private commercial bank (PCB) told the FE.
Opposing the private banker's allegations, another BB official said the banks should complete their emergency fund transfers by tomorrow (Wednesday) to avert any unfavourable situations.
The BB has also given enough time to the banks for making emergency fund transfer before implementing the instructions on their limiting operations, he explained.
siddique.islam@gmail.com