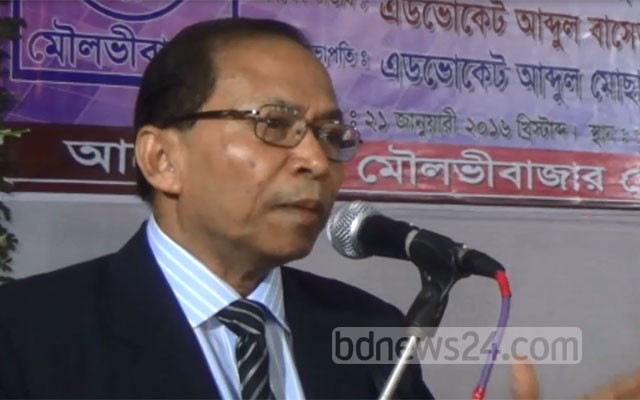 Chief Justice Surendra Kumar Sinha has emphasised that he will not allow any judge to write judgements after retirement.
He voiced his opinion, this time vehemently, after mixed reactions followed his earlier remark that writing judgments after retirement is unconstitutional.
The chief justice was speaking at a dinner hosted by Moulvibazar Bar Association on Thursday.
"I will not let you touch even a single public document after retirement. That is the bottom line," he said.
"And as for the judge… what's his personal interest in writing judgments after retirement? Why is he interested in writing judgments after retirement?" he wanted to know.
"It's for the court to look after such matters. What's happening here is bad practice. Should I cheat because someone else has? Am I expected to encourage wrong-doings?" he asked.
"No," he said in answer to his own questions, "I will not allow you to perpetuate these wrongs."
Justice Sinha felt that "we will have to correct ourselves to protect the law and the Constitution."
In a statement on the completion of his first year at Bangladesh's highest judicial post on Tuesday, Justice Sinha expressed dissatisfaction over the inordinately long time some judges take to give verdicts.
"Some judges take extremely long time to write their judgments. Some others keep writing their verdicts long after their retirement, a practice that goes against the law and the Constitution," the chief justice said in the statement.
BNP leaders and pro-BNP lawyers have exploited his stance to say the verdict cancelling the caretaker government system was illegal as it was written after the judge's retirement.
Attorney General Mahbubey Alam, however, does not see the writing of a pronounced judgment after retirement as a breach of the law.
He said Justice Sinha 'was only trying to emphasise that the people have a right to get justice'.
Former law and justice minister Shafique Ahmed feels there is no reason to break the long-held practice of writing of judgments after retirement.
Enviable success
On Friday afternoon, the chief justice addressed a programme in Sylhet marking 75 years of Madan Mohan College.
He urged all to hold up the united effort to uphold Bangladesh's enviable success in education, science, technology and economy.
Justice Sinha also praised Prime Minister Sheikh Hasina for her leadership.
"She (Hasina) has been recognised as one of the 10 most successful statespersons," he said.
He stressed the need to reduce the social and political differences in order to reap the benefits of development.
Justice Sinha emphasised on quality education for intellectual development.
Source: Bd news24