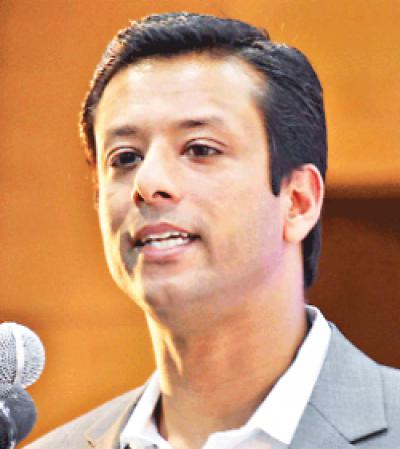 Prime minister's ICT Adviser Sajeeb Ahmed Wazed Joy has said the Bangladesh has shown the world it can surge ahead all by itself by climbing up the economic ladder well ahead of the targeted year.
Joy made the remark before 200 youths in the interactive discussion styled 'Let's Talk' on Bangladesh's achievement of lower middle-income country status on Friday.
"We were waiting for the World Bank statistics. But we were hearing that yes, we would be promoted. We knew it from beforehand, our figures also said we achieved it. We were waiting for official announcement to come.
"We promised that we'd turn Bangladesh a middle-income country by 2021. We reached the lower-middle income status (and) we did it with six years in hand."
The programme at KIB Auditorium in Dhaka was organised by ruling Awami League's research arm CRI that he chairs.
"It is our pride that with such a huge population and so little land, Bangladesh has shown the world we can do it, do it ourselves, we do not need anyone's help.
"We can take the country ahead ourselves, develop it."
A World Bank report at the start of this month promoted Bangladesh to middle income status based on income per head, a promotion targeted in the ruling Awami League's Vision 2021.
Highlighting development measures taken by the government, he said, "We were stunned too. [Achieving it six years ahead] was a challenge. From the world's poorest country we are now a lower-middle income economy."
He credited the success to Prime Minister Sheikh Hasina, his mother who heads the Awami League.
"All of this was planned by one person. She sat in prison during the last caretaker government and planned all of it. After coming to power, she implemented it. She is Sheikh Hasina."
Corruption and social security
Joy said the Awami League government ensured food, education, housing and healthcare for those who have no money.
He took a swipe at critics of the budget, saying, "The reality is the budget has increased as the government's earnings have gone up. Economy has grown."
He said the economic growth meant more government earnings. "Due to the increase in the budget, large allocations have been made for social security to serve the people."
Joy pointed out that the budget had quadrupled in the last six years.
Awami League government has cut down corruption in Bangladesh. Earlier, the government's earnings would be laundered out of the country through corruption. That is not happening now."
"But yes, we cannot get rid of corruption overnight, or in five years. We have hopes that we will gradually make Bangladesh corruption-free."
A participant alleged that corruption was taking place in railways appointments, to which Joy said, "If there is corruption, you please file written complaint with the ministry, Anticorruption Commission and Prime Minister's Office. We will look into it. We do not tolerate corruption."
Urban poverty
A Brac University student asked Joy about government measures to reduce poverty in urban areas.
The adviser mentioned the project 'Ashrayan' (A Project of Poverty Alleviation through Rehabilitation and Income Generation) as one of the initiatives to reduce urban poverty.
He said many people were employed and rehabilitated under this project.
"We've succeeded much in what we tried. We are trying to bring people back to rural areas by providing incentives."
He also spoke of problems with infrastructure and power connectivity in rural areas.
Now over 70 percent of the people accessed power supply, he said and added that it would be raised to 100 percent before the government ran its term.
About the income inequality, Joy said businesses were expanding with the growth of the economy, and naturally, the number of the rich was rising
"And so, they employ thousands… They can raise salaries of the employees, too, since their earnings are up," he said.
Rural and low-income people are enjoying a rise in earnings as well. "Nobody died from starvation in past six years with the rate of poverty falling," he said.
He said only the Awami League government looked after issues in the rural areas.
Drugs
A participant from Kurhigram said most of the people in his area were drug addicts or peddlers and asked how it could be prevented.
Joy, who studied in the US, said even that developed country was grappling with the drugs problem and that people, mostly along the borders, risked their lives to smuggle drugs to make quick money.
"We have kept an eye on drugs trade. We are trying to prevent it. Peddlers are being arrested every week."
He also said the government was creating awareness about the negative impact of drugs among the youths.
Qawmi madrasas
When a participant commented that the history of the Liberation War was missing in the curriculum of Qawmi madrasas, the prime minister's adviser said the government was watching over these madrasas as well.
"We can't directly control the curriculum of Qawmi madrasa. They are financed by money from abroad, mostly from the Middle-East.
"But we tell them that their students will be able to get government jobs, enrol at public universities if they merge their curriculum with that of the Bangladesh government. Then we will know they meet the standard," Joy said.
"Until they meet the standard… their students are harmed, not those who are making the curriculum," he added.
Joy also spoke about increasing use of technology in agriculture, preventing distortion of history, controlling trade of medicine, and tackling disasters.
His aunt Sheikh Rehana's son Radwan Mujib Siddiq Bobby, State Minister for Power, Energy and Mineral Resources Nasrul Hamid, State Minister for Foreign Affairs Shahriar Alam and State Minister for ICT Zunaid Ahmed Palak were also present.
Source: Bd news24