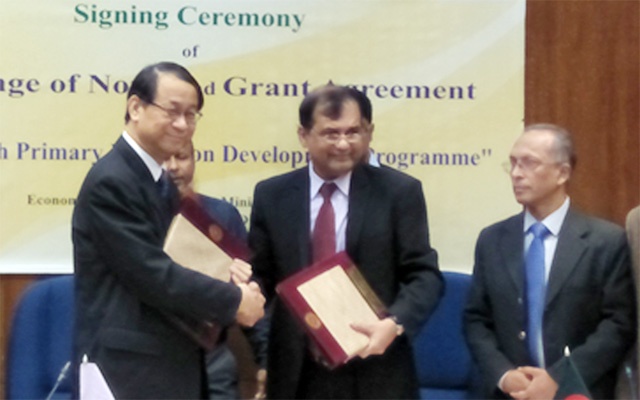 Japan has signed a grant agreement with Bangladesh to help develop the primary education programme.
The 500 million Japanese yen, or roughly 370 million taka, will be used for the 'fourth primary education development programme' or PEDP4, the embassy said.
Ambassador Hiroyasu Izumi and Economic Relations Division Secretary Monowar Ahmed signed exchange of notes on Monday at the ERD.
JICA Chief Representative Hitoshi Hirata also attended the ceremony and signed the grant agreement for the programme.
The PEDP is the singular national development strategic plan for primary education in Bangladesh.
Japan has been supporting the PEDP in cooperation with other development partners since 2011 under the Sector Wide Approaches (SWAPs).
Under the PEDP3, a number of activities have been implemented. For example, the refined textbooks have been distributed among about 25 million students in primary schools.
Approximately 500,000 teachers have been empowered and more than 25,000 classrooms built, the embassy said.
The PEDP4 is aimed at improving the quality of education.
Japan has provided support with a focus on improving the quality of primary education for all.
For more than a decade, various approaches composed of policy strengthening, development of textbook and teaching materials, strengthening school management and improvement of teacher's training, as well as this financing support have been taken.
Japan's approach is focussed on the quality assurance by way of technical cooperation through Japanese volunteers and policy advisors.
Source: Bdnews24.