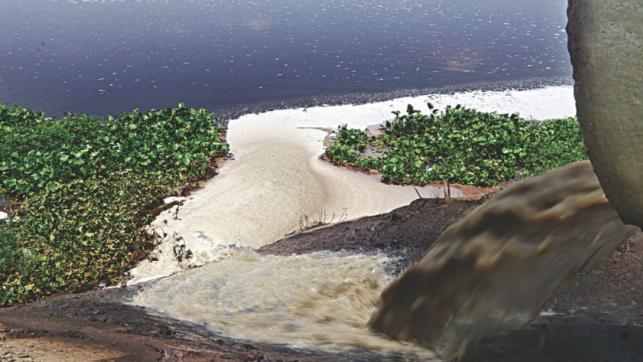 It is condemnable that solid waste from Savar Tannery Industrial Estate is seeping into Dhaleshwari river because a breach has developed in the embankment of the pond which is being used by the Central Effluent Treatment Plant (CETP) in the estate as a temporary dumping station. Reportedly, after the tannery estate was set up in the area, the pollution levels in the Dhaleshwari have increased. A recent test by the DoE has found that the dissolved oxygen level has decreased and Biochemical Oxygen Demand (BOD) has increased in the river water, which is making it hard for the aquatic life to survive.
Although the chief consultant of the Savar tannery hinted of sabotage, we are not sure if that is the case. Because what we know is that the initial plan of the authorities was to generate power from the solid wastes, and now we hear that the Chinese company that set up the CETP did not have the capacity to do that. Such inefficiency on part of the firm is totally unacceptable. Also, shouldn't the authorities have done a background check in order to know the capacity of the firm before appointing it? And why isn't there a permanent and modern waste dumping station instead of an open pond? It is obvious that there is a lack of monitoring and proper planning on part of the authorities.
Tanneries from Hazaribagh were shifted to Savar in order to save Buriganga from pollution. Given the level of pollution in Buriganga, it will take a long time to clean its water, even with proper planning. And now we are killing Dhaleshwari too. If our rivers live, we will live. Will we ever learn this simple truth?
Source: The Daily Star