A Gazipur city councillor, found after being missing for two days, says she was abducted by her father's killers, who wanted the case over her father's murder withdrawn.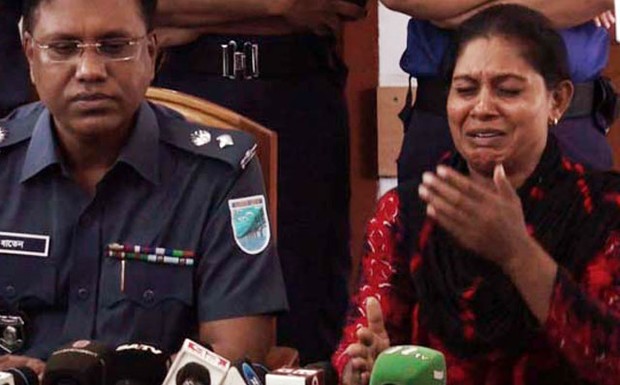 Parvin Akhter was briefing reporters about her abduction from the Gazipur district superintendant's office on Sunday.
Her father Chan Miah, a freedom fighter, was killed in 2011 over a land dispute and that killers were behind her abduction, she said.
"A woman called me on Thursday, saying she wanted my help in settling her marital crisis."
Akhter said she met the stranger at Jirani Bazar, next to Rahimafrooz Battery Factory at 8am Friday.
The woman said she wanted to sell her some gold ornaments for about Tk 15,000 and asked her to accompany her to Jirani Bazar, said the councillor.
"We went to Jirani Bazaar together. She showed me a microbus and said she would hand me the jewellery once I got into the vehicle."
The councillor said she saw about five people including 'her father's killers' Dulal Hazi, 'Jewel' and Soheil in the vehicle.
"They pressed a handkerchief on my nose when I tried to get away. I soon lost consciousness."
"I found myself in a room when I regained consciousness at around 9pm." she said. "The woman I met and a couple of others were guarding the locked room. They hit me a couple of times and asked me to withdraw the case over my father's murder. I didn't respond."
"They drugged me in the manner they used earlier and I lost consciousness again." She said regained consciousness when the microbus was travelling on the Dhaka-Sylhet highway.
"They saw a police checkpost and turned the vehicle."
The next morning, at 8am, her captors fled after dumping her on the Dhaka-Habiganj highway with her hands and feet tied, she said.
"An auto-rickshaw driver gave me a lift to the local market. From there, I called my husband Minhaz Uddin and informed him about my whereabouts. Police rescued me and admitted to the Habiganj Sadar Hospital," she said.
The same night, a team of the Gazipur Police went to Habiganj to bring back the councillor.
"I am feeling insecure. They will kill me anytime.
"In 2011, Dulal Hazi, Jewel and Sohel killed my father over a land-related feud. I am the plaintiff of that murder case. They have been threatening me for quite some time to withdraw the case. I have filed several GDs with the Gazipur police over the threats," a tearful Akhter said at the briefing.
The district's Superintendent of Police, however, said that they would take care of Akhter's security.
"Our first job was to rescue the victim. Now, we will arrest those involved. We have already begun raiding various places to catch the criminals," said Gazipur Police Chief Abdul Baten.
Daughter of late freedom fighter Chaan Miah of Gazipur, councillor Parvin Akhter went missing on Friday.
She was rescued from Habiganj's Nabiganj Upazila on Saturday before being brought back to her hometown on Sunday.
Source: bdnews24