The dollar sprinted to a more than 13-1/2 year high against a basket of major currencies on Friday and US debt yields hit near one-year highs on expectations that President-elect Donald Trump's policies will boost the US economy.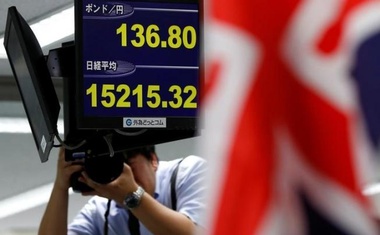 But the post-election shift in expectations has left many emerging market currencies and assets vulnerable if investors rotate more funds back to the United States.
European shares were expected to open marginally higher, with spread-betters looking to rise of 0.3 percent in Germany's DAX and a flat opening for Britain's FTSE .
Concerns about the health of Italy's banks and the political repercussions of a referendum next month are rearing their head, after the spread of the Italian 10-year debt yield IT10YT=RR over German paper DE10YT=RR had risen to a high last seen in August 2014.
In Asia, MSCI's broadest index of Asia-Pacific shares outside Japan .MIAPJ0000PUS dropped 0.4 percent to hover just above its four-month low touched earlier in the week. It looked set to log its fourth straight week of losses.
The dollar's rise, however, was a boon for Japan's Nikkei average, which hit a 10-month high before ending 0.6 percent higher. The weaker yen has raised hopes for better-than-expected earnings for exporters.
On Wall Street, the benchmark S&P 500 index rose 0.5 percent on Thursday to within a hair's breadth of its record high, as the prospect of higher interest rates boosted bank stocks and consumer discretionary stocks were helped by favourable economic data and earnings.
US consumer prices posted their biggest increase in six months, while housing starts surged to a 9-year high and jobless claims fell to the lowest level since November 1973.
The data supported the market's current view that US growth and inflation is likely to accelerate if the Trump administration cuts taxes and increases fiscal spending.
His protectionist stance on trade could stoke US inflation by limiting inflows of cheap imports, though it is likely to hurt many other countries in the near-term and many investors suspect it will ultimately damage the US economy as well.
"The United States has been leading globalisation but now voters said they had enough. They said they want to stop the fall in their wages with fiscal spending and protectionism. This is a very, very big change in trend," said Masayuki Kichikawa, chief macro strategist at Sumitomo Mitsui Asset Management.
The US elections prompted investors to ditch their once rock-solid conviction that the growth in developed economies will remain tepid because of tough competition from emerging market economies with lower wages.
As investors tried to adjust to the new environment, the 10-year US Treasuries yield US10YT=RR rose to 2.339 percent, its highest since December, compared to around 1.86 percent before the US election.
The two-year US Treasuries yield US2YT=RR rose to a 10 1/2-month high of 1.071 percent.
Rising yields also reflected market players' reassessment of the Fed's policy path down the road, beyond a likely rate hike in its Dec 13-14 meeting.
Federal Reserve Chair Janet Yellen told the Joint Economic Committee of Congress on Thursday that Trump's election has done nothing to change the Federal Reserve's plans for a rate increase "relatively soon."
But interest rates futures for 2017 are now starting to price in one or more rate hikes next year, a sea change from before the election when they priced in a less than 50 percent chance of a 2017 rate hike, assuming the dovish Yellen would be extremely cautious in raising rates.
The dollar's rising yield attraction is lifting the US currency, which rose to 110.34 yen, its highest level since early June. The euro slumped to $1.0620, a low last seen almost a year ago.
The dollar's index against a basket of six major currencies rose above its "double top" touched in March and December of 2015. The index now stands at its highest level since April 2003.
"Double top" is a technical analysis term describing a currency (or other liquid asset) rising to a high, falling, and then rising again to the same level. Breaking the double top is often seen as a bullish sign by technical analysts.
A rising dollar is particularly a problem for some emerging economies that could see potentially destabilizing capital outflows.
The Mexican peso, which has been perceived as the most vulnerable to Trump's policies because of its big exports to the United States, weakened 1 percent after the central bank raised its policy interest rates by 50 basis points to defend the currency, as the market had expected a bigger hike.
The Turkish lira hit a record low, having fallen more than 8 percent so far this week, hit by signs of more discord between Turkey and Europe.
Gold slumped to 5 1/2-month low of $1,205.9 per ounce and oil prices, which have been supported by hopes the Organization of the Petroleum Exporting Countries (OPEC) would reach an agreement to cap production at its meeting in Vienna on Nov. 30, were hit by the dollar's strength.
Source: bdnews24