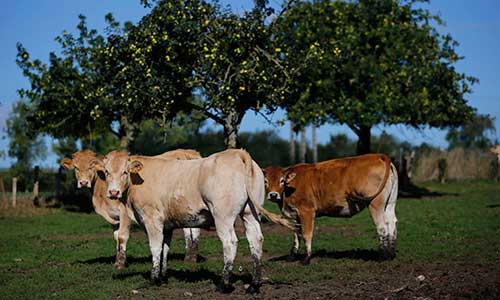 The cattle influx from India has resumed along the border in Kurigram ahead of Eid-ul-Azha after months' of fall in its supply since April this year as Indian home minister Rajnath Singh had asked BSF jawans to put a stop to cattle smuggling across the India-Bangla border.
Though the tightening of the monitoring by BSF along the border led to the sharp surge in beef prices in Bangladesh, it had raised hopes among local cattle farmers that they would get better prices for their cattle during the Eid sale this time.
But their high hopes have started fading away as Kurigram correspondent reports huge import of Indian cows and buffaloes along the border over the last few days, reports United News of Bangladesh.
Kurigram customs inspector Ashraful Islam told that 35,147 Indian cattle have passed the corridors at Dharla Bridge point and Roumari point in the district this month. When a consignment of illegally imported Indian cattle is seized by the members of Border Guard Bangladesh, the customs department 'corridors' allegedly take Tk 500 each to clear the way for the traders to take those to local markets.
The cattle inflow has increased greatly over the last few days, according to a press release issued from the office of Kurigram BGB battalion-45 commanding officer Lt Col Zakir Hossain.
Zahurul Islam, a cattle trader of the district, told that the price of per maud of beef rose here rose to Tk 13,000-14,000 from Tk 11,000 recently following the recess in the inflow in Indian cattle.
But the beef price has not increased as it is expected ahead of the Eid because the Indian cattle have started flooding the local markets, he noted.
Officials at the Directorate General of the Department of Livestock Service also came up with assurances that the country's cattle stock is about to get as big as two crore very soon and that it was fair enough to meet the demand ahead of the Eid-ul-Azha.
The tightening of cattle influx from India could have been considered as a blessing in disguise as it had created an opportunity for Bangladesh to revamp the domestic livestock market as local farmers had already started giving more concentration on domestic production, they added.
Despite a sharp fall in the cattle influx from India due to their tight border monitoring, Bangladesh has already got a stock of 30 lakh cows and buffalos and 69 lakh goats, and the number may hit 1.9 crore ahead of the Eid-ul-Azha.
Director General of the Department of Livestock Services Ajay Kumar Roy came up with the figure quoting their union-level reports amid concern that the upcoming the Eid-ul-Azha may see an overheated market of sacrificial animals. 'Some 10-15 percent will be added to the existing figure for cows and buffalos because the counting is still on,' Roy said.
He, however, sees a blessing in disguise in the fall in cattle influx as it has created an opportunity for Bangladesh to revamp the domestic livestock market as local farmers have already started giving more concentration on domestic production.
'Definitely, it's an opportunity for us. Domestic production [of cattle] is gradually increasing,' Roy insisted.
Though the overall situation has led to a sharp meat price hike in the domestic market, Bangladesh will be benefited in the long run as cattle farmers are now encouraged to go for a large scale cattle farming, he said.
Meanwhile, the flow of sacrificial animals from Myanmar through Bangladesh-Myanmar border has increased sharply in recent days.
The DG, however, could not make any comment on whether the cows are coming through formal or informal channels.
Import from Myanmar
The cows are being imported through formal channel using only corridor in Teknaf from Myanmar that increased income for the customs authority.
He said some 300-400 cows and buffalos are entering Bangladesh through Teknaf every day.
Local businesspeople said they would be able to bring some 12,000 cows and buffaloes in the coming days. The consignment of cattle comes through wood-made cargo boats using the Na'f River.
Master Zahid Hossain, a resident of Shahpurir Dwip, said the demand for Myanmar cows has increased as they have seen a tendency of applying cow fattening method in the country.
Another resident, Abdus Salam Member, said the import of cows from Myanmar through corridor remained stagnant for various reasons. 'We've seen the resumption of import and hope it'll get a further boost.'
Humayun Kabir, an official at Teknaf Customs Station, said some 4,194 sacrificial animals came from Myanmar in August generating a revenue income of Tk 20-85 lakh.
He also said some 25,000 sacrificial animals came from Myanmar last year and he is expecting to see the import of another 10,000 sacrificial animals ahead of the Eid-ul-Azha.
Commerce Minister Tofail Ahmed said there would be no crisis of sacrificial animals ahead of Eid-ul-Azha even if Indian cattle are not imported, as there is an ample stock of animals in the country.
Counting Loss
In April this year, Indian Home Minister Rajnath Singh asked BSF jawans to put a stop to cattle smuggling across the Indo-Bangla border and stifle it so severely that people in Bangladesh stop eating beef.
However, if BSF were to implement Singh's instructions strictly, India would be saddled with an additional expenditure in excess of Rs 31,000 crore annually, according to The Times India, an Indian national daily.
Some 25 lakh cattle are smuggled on average every year from India to Bangladesh illegally across the border.
However, the strict monitoring along the border over cattle smuggling contributed to high price of beef in Bangladesh market.
Source: New Age