Each year the fair opens an avenue of opportunity for new writers to introduce their literary works to book lovers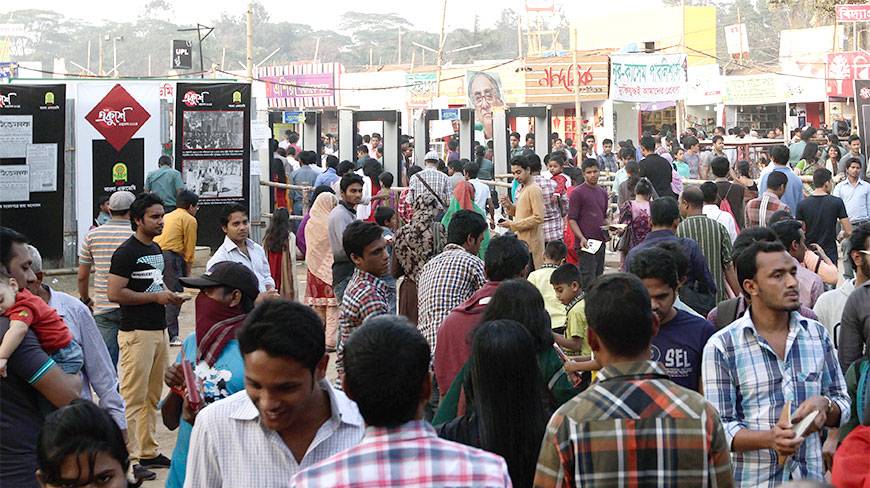 'Amar Ekushe Book Fair' is not only a long-awaiting festival for the book lovers but also a birthplace for young writers.
Each year the fair opens an avenue of opportunity for new writers to introduce their literary works to book lovers.
The newcomers in the literary arena wait throughout the year for this historic event to publish their new titles. But most of them have to struggle hard and woo the publishers to get their blessings.
"Book fair creates a link between writers and publisher. Here new writers get together almost every day. They discuss their works, thereby developing a strong bond between them," said Pias Majid, whose book "Kobita Jiboni" was published by "Onnesha Prokashoni" this year.
He said: "Most young writers start making their career through writing in little magazines. Lots of little magazines open stalls here to mark the fair where young writers assemble with their new writings."
Kingkor Ahsan, another young writer whose two new books were published this year told the Dhaka tribune, "If we finish our script in the middle of the year we will not have any chance to publish our books because most publishers do not want to publish them till the fair starts."
Kingkor thinks those who want to make their appearance as writers like him have a very little scope because of domination of the established and popular writers.
"Popular and reputed writers on an average publish eight to ten books in each fair. New writers like us are always lost in the crowd of writers," he said.
Apart from all these obstacles, the new writers converge on the "Little Magazine Chottor" called "Bahera Tala" at the fair with renewed energy and enthusiasm hoping for the fortune to smile upon them.
A total of 82 new books were published yesterday on the twenty third day of the fair, including Tushar Abdulla's "Kobitar Doirgho", Ahsan Habib's "Honon" and Shamsujjaman Khan's "Muktobudhdhi, Dhormoniropekhkhota O Shomokal".
A total of 13 new books were unveiled at Nazrul Manch on Bangla Academy premises.
A discussion titled "Abdul Hafij: folklorer jonoprantorer vetore" was held at the fair where Selina Hossain delivered her keynote speech.
Presided over by Shamsujjaman Khan, director general, Bangla Academy, the discussion was attended, among others, by Tosikul Islam Raja, Shahida Khatun and Mostofa Torikul Ahsan.
Source: UNBConnect