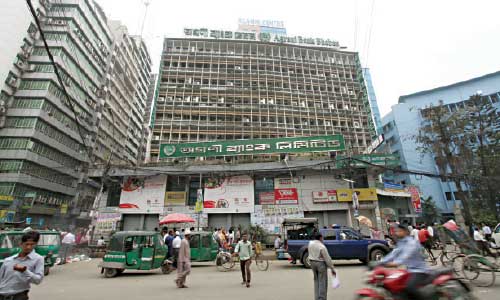 The Bangladesh Bank has requested finance ministry to take action against nine officials and the managing director of Agrani Bank for their alleged involvement in Moon Group financial scam.
The BB issued a letter to the MoF on March 15, 2015 requesting it to take measure against the alleged officials as Agrani Bank did not take proper action against them despite the central bank directives, an official of the BB told New Age on Monday.
The BB also issued a separate letter to Agrani Bank managing director Syed Abdul Hamid on March 14 saying that he (MD) could not avoid his responsibility for the loan scandal.
A BB inspection team earlier found that Agrani Bank disbursed around Tk 300 crore in loan to Moon Group owned by businessman Mizanur Rahman, violating the rules and regulation.
Of the total amount, Tk 115.18 crore was disbursed for construction of three buildings with unapproved structural designs. But Moon Group diverted the loan to other sectors without constructing the buildings.
The BB issued a show-cause notice to Agrani Bank MD on December 12, 2014 asking him to explain why punitive measures would not be taken against him for his alleged involvement in Moon Group financial scam.
Besides, the BB asked Hamid to take punitive action against nine other officials of the bank involved in the scandal within December 30, 2014, a central bank official said.
'The central bank did not accept the reply to the show-cause notice of Hamid as he denied his involvement in the financial crime. Besides, he gave impunity to the nine officials from the corruption charge', he said.
The Agrani Bank management just issued warning letters to the alleged nine officials without taking any action against them.
The BB asked the bank to take stern action against the alleged officials in line with Agrani Bank Ltd employee Service Regulations-2008 by April 15, 2015.
The nine officials are: Agrani Bank deputy managing director Mizanur Rahman Khan, deputy general managers Akhtarul Alam, Amirul Islam and Jahor Lal Roy, assistant general manager Md Shafiullah, senior principal officers AKM Mujibur Rahman, Md Fazlul Haque and Md Rafiqul Islam, and senior officer Aunirban Sarkar.
The BB inspection report said that the principal branch of the state-owned bank disbursed the loan to Moon Bangladesh Ltd, a sister concern of Moon Group, starting in 2011.
The BB inspection team unearthed that the company so far had not completed construction of one building although the officials concerned of Agrani Bank released the loan against three completely constructed buildings.
Source: New Age