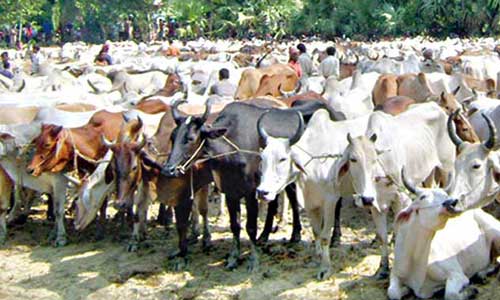 Bangladesh plans not to allow Indian cattle in Bangladesh to protect local farmers.
The state minister for fisheries and livestock, Narayon Chandra Chanda, on Wednesday said the government would not allow Indian cattle into Bangladesh through all the borders in future and would take measures to increase production of local cattle.
'My ministry would request the prime minister to adopt a policy for increasing production of cattle so that we can meet our own demand and export meat too,' he told reporters at his office.
The minister said dependency on Indian cattle would be reduced to encourage local farmers to rear cows and buffalos.
He said in the past around 75 per cent of cattle in cattle markets in bordering areas were Indian. But this year's Eid ul-Azha witnessed almost no Indian cows there. He also said there was no shortage of sacrificial animals during Eid ul-Azha despite absence of Indian cattle.
The minister's move follows an Indian Bharatiya Janata Party-led government's move to seal off the borders to protect cows which is deemed a sacred animal there.
Bangladesh used to allow Indian cattle into the country despite there is no formal import.
Source: New Age