Korean investors consider Bangladesh to be their "second country", according to the head of a Korean investors' body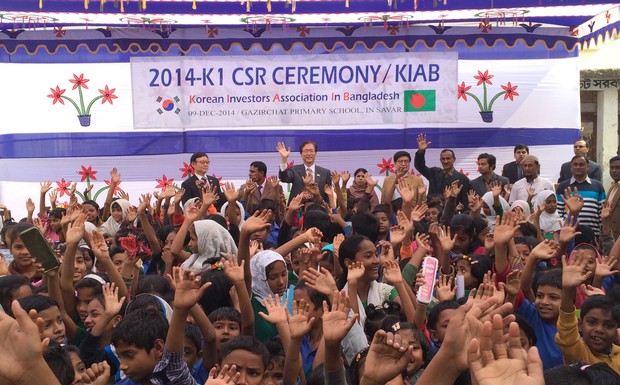 Chairman of the Korean Investors Association in Bangladesh (KIAB), Leo Kim, stated this in a MoU signing ceremony at a Savar school on Tuesday.
The KIAB is working to improve educational environments of the Gazirchat Primary School as part of its corporate social responsibility, the Korean embassy in Dhaka said in a media release.
Most of the factories of KIAB members are located at Savar.
Kim said Korean investors always accorded "high importance" to their relations with local communities and neighbours where they set up factories.
"We will keep trying our best to repay what we owe to Bangladesh, which is our 'second mother country'," he said.
Korean entrepreneurs first came to Bangladesh in late 70's and set up garment factories, when Bangladesh had no modern industry.
The present boom in Bangladesh's readymade garment industry that wheels its economy is attributed by many to an initial training by Korea's Daewoo Corporation.
Now, more than 220 Korean companies in Bangladesh employ more than 160,000 Bangladeshi workers.
They export goods worth $1.6 billion, accounting for six percent of Bangladesh's total exports.
KIAB provided students' desks and chairs, whiteboards, and drinking water facility to the school.
The next phases of donations would follow shortly, the embassy said.
KIAB chief Kim and the school headmaster Ibrahim Khalil signed a MOU for further cooperation in this regard.
Korean Ambassador Lee Yun-young was also present.
He said the continuous CSR activities of Korean investors would foster the "harmonious relationship" between the Korean companies and the local communities.
It would also serve as a "firm foundation" for further strengthening the friendly ties as a whole, he said.
The KIAB is planning to expand such CSR activities to other schools in the Savar neighbourhood.
Source: bdnews24