Doctors who autopsied the body of 'Bangabahadur', which died after wandering around four Bangladesh districts for more than a month, have found that the Indian wild elephant died of heart failure.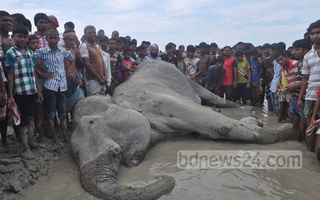 The elephant that has been making the headlines in local as well as international media died on Tuesday morning at Sharishabarhi Upazila's Koyra village in Jamalpur.
The Sharishabarhi Upazila chief executive later in the day formed a three-strong committee to conduct the elephant's autopsy and find out the cause of death.
Veterinary surgeon Mostafizur Rahman of Bangabandhu Safari Park in Cox's Bazar led the autopsy team.
He told reporters, "Bangabahadur (Hero of Bengal) died from heart failure triggered by insufferable heat."
The wild male, weighing some five tonnes, was laid to rest at Koyra after the autopsy in the evening.
Washed away from northeast Indian state of Assam in the strong currents of the Brahmaputra, the elephant had entered Bangladesh through Kurhigram border on Jun 26.
It travelled a few hundred kilometres into Bangladesh to Sirajganj via Gaibandha and Jamalpur and then travelled back to Jamalpur.
On Aug 11, authorities finally managed to rescue it after tranquillising and then tied it with ropes and shackles to stop it from running away again.
However, the elephant had broken away from the shackles and stayed in a muddy farmland until Tuesday. All attempts to move it from there went in vain.
Locals, who had helped the rescuers in every way until now to ensure the elephant's recovery, have alleged that forest department officials' negligence had led to its death.
But Tapan Kumar Dey, a former forest conservator who have spent many days at Sharishabarhi and led the rescue attempts, said, "We have tried our best to rescue Bangabahadur and keep the elephant alive. Its death has also pained us."
Source: bdnews24