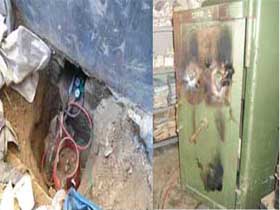 Barely in one and a half months of similar incident in Kishoreganj, burglars in a filmy style have looted Tk 32.51 lakh from another branch of Sonali Bank in Bogra after digging a tunnel into its vault.
The daring heist came to light on Saturday when employees of the bank's Adamdighi upazila branch entered the vault room around 5pm.
Manager of the bank branch Shamsuddin Sharif said the thugs dug the underground tunnel from a nearby furniture shop, 'Biplob Furniture Mat', to the bank vault.
He said the bank was reopened on Saturday under a special arrangement after Thursday's transactions.
The manager said they found the vault broken in the afternoon as the officials had been there for the vault and cash books, and then informed police.
The burglars looted all the money, Tk 32.51 lakh, the vault had, he added.
Confirming the incident of the heist, officer-in-charge of Adamdighi Police Station Nazrul Islam said two gas cylinders and other tools used in breaking open the vault were recovered from the spot.
Meanwhile, police arrested two guards of the bank, and an employee and the furniture shop owner suspecting their involvement in the incident.
He said they are investigating the incident and will launch a drive to recover the money.
Earlier on January 25, burglars had tunneled into the vault of Sonali Bank's main branch in Kishoreganj district town and looted about Tk 16.40 crore.
The law enforcers, however, arrested the two burglars and recovered Tk 16.19 crore.
Source: UNBConnect