Five members of a family have been hacked to death in Narayanganj City.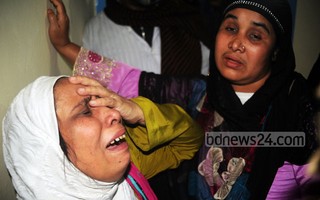 Police said the bodies were found in a flat on the ground floor of a five-storey house at No. 2 Baburail in the city on Saturday night.
The deceased are Taslima Begum, 40, her son 'Shanto', 10, daughter 'Sumaiya', 5, brother 'Morshedul', 25, and sister-in-law 'Lamia', 25.
Additional Superintendent of Police Md Zakaria said the murders might have taken place anytime between Saturday noon and evening.
The motive behind the murders is not clear.
The relatives suspect Morshedul's dispute with a group in Dhaka may have led to the murders.
But police initially suspect familial dispute as the motive.
They were strangled with clothes and there were marks of blood on them, police said.
Police suspect they were hit in head and then slaughtered.
The law-enforcers have detained two persons, including victim Lamia's husband Sharif Mia, for questioning.
Deceased Taslima's husband works as a car driver with a private firm in Dhaka. There was no confirmation on his whereabouts immediately.
Taslima's cousin 'Nayantara' said Morshedul came to visit her from Mymensingh on Friday afternoon.
Their mother Murshida Begum said she could not reach them on the cell phone on Friday night.
Murshida called up their other relatives in the city on Saturday morning to get in touch with them.
They found the flat locked when they checked in the afternoon.
The neighbours informed the relatives and police when a foul odour started coming out of the flat in the evening.
Police entered the flat breaking the lock at around 8pm and found the bodies lying scattered.
Rahima Khatun, the tenant of the adjoining flat, said her family heard people speaking and going in and out of Taslima's flat until 10pm on Friday.
She said they did not hear anyone cry.
Nayantara's husband Mohammad Milon said Morshedul had a dispute with a group in Dhaka over payment of interest on loan, which may be the motive behind the murders.
Murshida, too, said she suspected the group in Dhaka might have links to the incident.
ASP Zakaria said the bodies had wounds from sharp weapons on the neck.
Superintendent of Police Mahid Uddin said, "Familial dispute is apparently the motive.
"Because the door was locked from outside and the neighbours heard no sound. We suspect that the murderers were no strangers to their victims," he said.
Narayanganj Sadar Model Police Station Inspector Shah Jalal said police are yet to confirm whether the murders were carried out by strangling or hacking.
Source: bdnews24