Around 32 percent female workers in Bangladesh get paid less than Tk 100 per day, according to a recent study by the development organisation, Steps Towards Development (STD).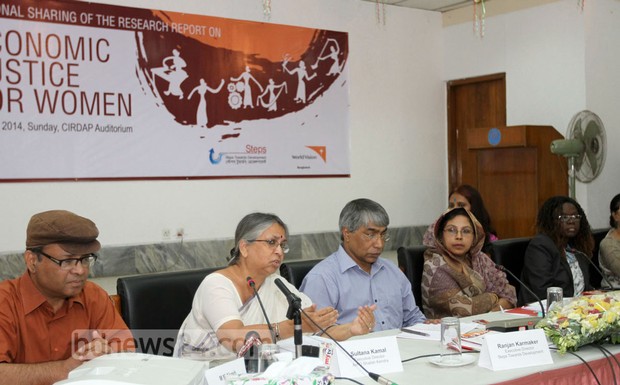 It also said that 61 percent of female workers earned between Tk 100 to Tk 200 daily.
Meanwhile, 56 percent of male workers get between Tk 200 and Tk 400 a day, according to the study – 'Financial Justice for Women' – done jointly by the World Vision and STD.
The report launched on Sunday at the capital's CIRDAP auditorium is based on interviews of 83 women entrepreneurs, 68 female workers and 51 male workers of at eight Upazilas of eight districts across six divisions.
In a discussion at the launching function, State Minister for Women and Children Affair Meher Afroze Chumki said that the patriarchal mindset should change to ensure financial justice for women.
"Women do not get paid fairly, though they work a lot. That's why everyone has to play their role to ensure justice for them by being conscious," human rights activist and former caretaker government advisor Sultana Kamal said.
The study finds that women are increasingly joining the work force because of a rising cost of living and poverty.
However, they often face discrimination due to the patriarchal mindset and the existing social structure.
It identifies poor marketing and transportation, lack of market information and security as well as obstruction from family members as the key problems faced by Bangladeshi women entrepreneurs.
Source: bdnews24