Rajdhani Supermarket fire extinguished
Nayadiganta English Desk   20 November 2019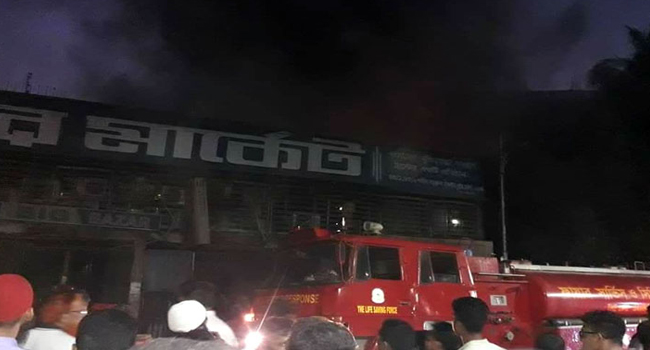 The fire that broke out at Rajdhahi Supermarket in the city's Tikatoli area on Wednesday evening has been brought under control.
Twenty-five firefighting units brought the fire under control around 6:30pm after efforts for one hour, said Debasish Bardhan, Deputy Director at Fire Service and Civil Defence, UNB reports.
The fire originated from a shop on the northeast side on the first floor of the market, he said, adding that they were yet to know the reason behind the blaze.
However, no casualty was reported in the incident.
The fire broke out around 5:15pm, said Polash Chandra Modok, duty officer at the Fire Service headquarters, earlier.
The market has a total of 1,700 shops, including 105 on the first floor.
Narayan Chandra, who owns a shop on the ground floor, said he went to the washroom on the first floor when he saw fire erupting from a mattress shop.
Bablu, owner of a shop on the first floor, said welding work was underway by the mattress shop which caused the fire.
A total of 70-80 shops, including three owned by him, were gutted by the fire, he claimed.