DWASA, city corporations blame each other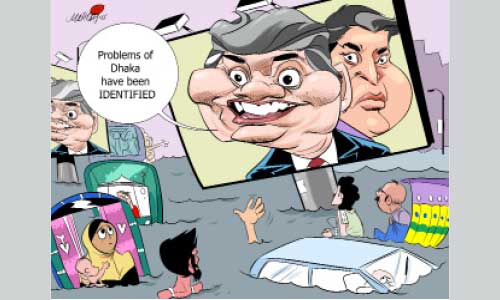 Most areas in the capital witnessed severe water logging even after brief spells of rain throwing life out of gear with the advent of monsoon.
Dhaka WASA and the two city corporations traded blames over the recurrent failure to keep the 360 square km capital free from water logging in rainy days.
The three entities repeated the same old story that none of them controlled the facilities for the drainage of the entire capital.
The blame game sounded farcical to the residents as they see no progress in bringing the capital's drainage system under a single authority, though a move was initiated in this direction 12 years ago.
Increased traffic jams due to water logging caused terrible sufferings to   office and school goers and other commuters.
Many pedestrians fell into manholes without covers as they had just gone under clogged water.
It's a routine plight of the residents during monsoons, said residents, the only difference being water logging increased on broken and ill maintained streets and lanes.
They said that they found none to address the recurring problem.
After last Thursday's torrential rains, said residents, they had to wade through water logged on several streets and lanes even in posh neighbourhoods.
Acute water logging disrupted normal life in most areas of the capital.
Even occasional heavy showers led to water logging and increased traffic jams throughout the capital.
'We face the same problem every year as there is none to solve it,' said Goran resident Jamilur Reza.
Officials said Dhaka Water Supply and Sewerage Authority had the responsibility to look after the drainage of 39 per cent area of the capital.
DWASA with its 10 km of box culverts and four pumping stations drains 140 square km of the 360-square km capital into 65km open canals, they said.
DWASA's drainage pumping stations are located at Dholaikhal, Kallayanpur,Rampura and Janapath, they said.
Officials of the two city corporations said they maintained around 2,500 km of surface drains and around 4,000 km of underground drains.
Dhaka north city corporation's  additional chief engineer Syed Qudratullah said that until and unless DWASA recovered its 26 canals there could be no improvement of the situation.
WASA's clogged outlets obstruct the passage of water into its canals, he said.
WASA never cleans its outlets, he said.
WASA admitted that out of its 26 canals 13 were either clogged or under illegal occupation.
DWASA never operates all its pumps together to pump out water, said Dhaka South City Corporation's additional chief engineer Nurul Amin.
DSCC also does not always clean its  surface drains, he admitted.
DWASA acting managing director  Ataur Rahman said, now water logging occurs at some pockets of the capital.
He also said that acute water logging witnessed in the capital 10 years ago was a matter of the past.
He said that most of the drainage facilities were controlled by the two city corporations.
The situation would improve only if the three entities worked together, he said.
On July 11, 2003, the government decided to bring the drainage system either under the control of either then  Dhaka City Corporation or DWASA.
There has been no progress on the issue ever since.
Source: New Age