Waiting for Husband, Waiting for democracy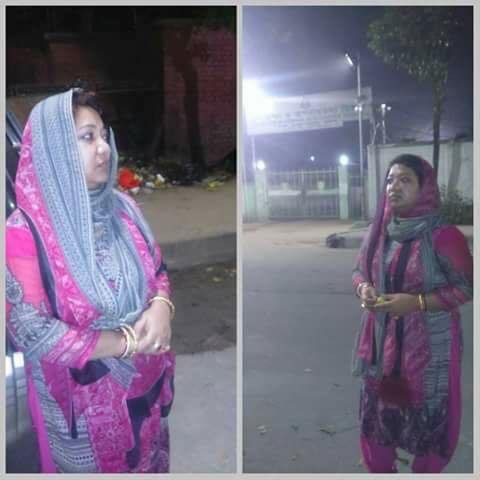 March 9, 2017
The photo of this woman was taken after midnight on Minto Road in Dhaka city. Ms. Shefa Srishti is anxiously standing at the gate of detective branch head office to watch her husband getting released from this detention facility. She knows her little negligence tonight may cost her loving husband and the father of her young children towards another enforced disappearance. Her husband is not a terrorist but a renowned political leader from Bangladesh Nationalist Party who formed the governments of the country for most of the time after independence in 1971.
It could be a wonderful gift for Ms. Shefa on the eve of International Woman's Day. Her husband Mr. Habib-Un-Nabi Sohail, Joint General Secretary of Bangladesh Nationalist Party (BNP), was being released from the jail and she went to the prison gate to receive him. Like her, thousands of women are waiting for their husbands; waiting for democracy to arrive in this country so that people get fair trials.
Instead of pleasure, it became a nightmare. The detective branch police arrested him again from the jail gate as soon as he was released. So she followed the police car carrying her husband to Minto Road to make sure he is transferred alive and not killed in the so-called "Cross-fire." Cross-fires, as they are called, is a method how the elite police force kills political opponents saying that the victim opened fire. So the Police justify countering it with using their firearms to kill the intended person. It is a pre-arranged killing but legally giving it another name to legalize it. Human Rights Watch has identified hundreds of killings like these in Bangladesh since 2009.
One may recall a picture of a young lady named Tulip Siddiq in the British parliament safeguarding British democracy and British values. She is very vocal on different human rights issues and does not tolerate a slight deviation of justice and human dignity. She introduced bills in the U.K. parliament to oppose President Trump's appearance in their legislature.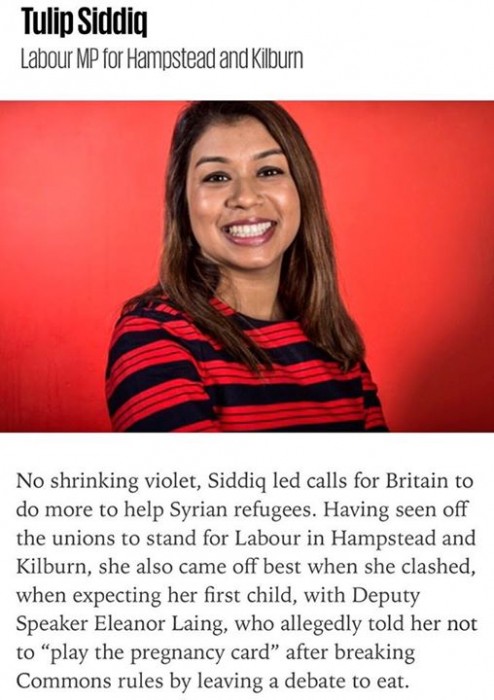 What a contrast! She is ready to give her life to protect British democracy and British values for British people but her ruling family (Prime Minister Sheikh Hasina is her aunt, and they are very close) in Bangladesh causing sleepless night for thousands of wives, mothers, and daughters. Those ladies' husbands, sons, and fathers are not criminals or terrorists but political leaders of unfortunate Moderate Muslim countries. I do not understand why this British MP who is a champion of western democracy and western values cannot convince her powerful aunt Sheikh Hasina to stop repression in Bangladesh.
Bangladesh is experiencing a grave human rights problem under Prime Minister Sheikh Hasina who has established an authoritarian rule in the country. She created a domesticated opposition party which is a fake opposition in the parliament. At this time, Bangladesh parliament does not have an active opposition party. Bangladesh had the same system right after her birth during 1972-1975. It ended up miserably with the killing of the founding Prime Minister Sheikh Mujibur Rahman, Sheikh Hasina's father.
Sheikh Hasina under the cloak `war on terror,' has managed to eliminate the active opposition by killing, arresting, making trumped up charges and jailing, abducting and killing by cross-fires. The police and the elite forces are being regularly used to arrest or kill by "cross-fire." No political demonstrations by the opposition forces are allowed. Hasina has turned Bangladesh into a non-democratic one party autocracy.
She has elevated her party thugs to rule the streets and the wards. They kill the opposition leaders and activists in police custody while the police reports indicate the killing as the result of so-called "cross-fire." The entire population of Bangladesh is terrified to utter anything for fear of getting abducted or killed.
Sheikh Hasina's government has full control of the print and the electronic media. The Government has banned all newspapers and TV channels operated by the opposition. Many of their editors and operators had been jailed for many years. Existing media have to comply with the wishes of the Hasina government. The civil servants and the media have been politicized to favor the current administration. Showing herself as a fighter against fundamentalism, she has formed dangerous syndicates with political thugs to support her rule indefinitely.
The number of inmates in Bangladesh's jails have doubled as most of them are members of the opposition.
Even though the United Nations, European Union, United States and other international bodies have shown their grave concerns and dissatisfaction, Sheikh Hasina is not worried. She is not worried because India has been protecting her and the USA and the world bodies will not make any further overtures.
Sheikh Hasina's government has destroyed all the democratic institutions including the election commission that is supposed to oversee a fair and free election. The world is totally silent and is just being observers. At the same time, the people within the country cannot express their feelings. It is a hopeless situation.
The free world must understand that they cannot fight religious fanaticism with the help of an authoritarian government. One should not breed terrorism in the name of fighting terrorism. Sheikh Hasina's government will not be able to eliminate religious terrorism when her party is full of terrorists.
The fight against religious fanaticism is only possible by establishing the rule of law and by ensuring a fair system for all of its citizenries. As explained earlier she is misguiding the Western world to establish her family rule firmly.
If the world does not intervene, Bangladesh will be lost to fanatics. Bangladesh needs a free and fair election free from interference by Sheikh Hasina's government.
By: Minar Rashid, a Marine Engineer, and a social thinker