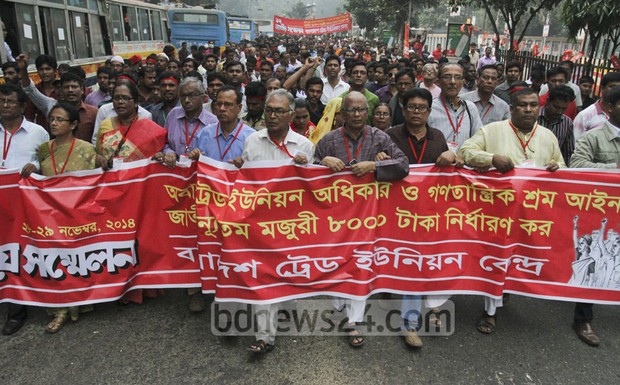 State Minister for Labour Mujibul Haque Chunnu says too many trade unions will be detrimental to Bangladesh's export-focused readymade garment industry.
Speaking at the council of Bangladesh Trade Union on Friday, he said workers of all RMG factories wanted to form trade unions without being aware of the relevant laws.
"I don't understand what good so many trade unions will do. Cambodia's garment sector suffered a huge blow for approving too many trade unions," Chunnu said in presence of labour representatives from Bangladesh, India, Nepal and South Africa.
Bangladesh last year amended the Labour Act providing opportunities to form trade unions at RMG factories.
The US and the European Union had turned up the heat on the government following the collapse of Rana Plaza killing over 1,100 RMG workers.
Now, the RMG sector has more than 200 registered unions.
Bangladesh is the second largest exporter of RMG products behind China and the apparel sector fetches an estimated 80 percent of the export earnings.
State Minister Chunnu stressed 'good relations' between the owners and workers for the sector.
"Everyone here works hard for a living. I believe they (the workers) are more honest and transparent than us," he added.
Earlier, BaSaD leader Rajekuzzaman Ratan alleged victims of the Tazreen Fashions fire and Rana Plaza were not paid proper compensations.
But Chunnu differed with him saying the damages received by the victims from the Prime Minister's Fund, ILO and buyers were not inadequate.
He said he would make public the details of compensation within the next few weeks.
Source: Bd news24