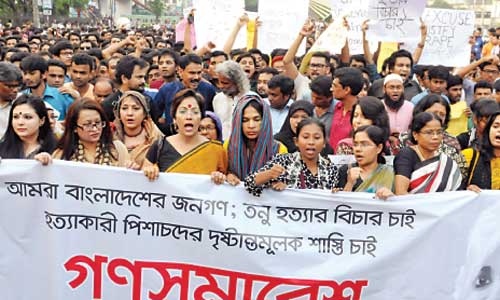 The police could not make any headway in the investigation into the rape and murder of Victoria College student and theatre activist Sohagi Jahan Tonu inside six days of the recovery of her body from Comilla cantonment area.
Police officials said that none was arrested yet and claimed that they could make a breakthrough soon.
Protests continued in Comilla and elsewhere across the country on Friday for the arrest and trial of the perpetrators.
Sohagi Jahan Tonu, a second-year student of Comilla Victoria College and activist of the college theatre, was found dead at Alipur in Comilla cantonment area on the night of March 20.
Post-mortem examination said she was killed after rape.
Victim's father Yar Hossain, also Comilla cantonment board clerk, filed a murder case with Kotwali police station on March 21.
Comilla additional superintendent of police Imtiaz Ahmed said that none was arrested yet.
'We would give you good news soon,' he said.
Different women rights bodies, student organisations and social and cultural bodies in the capital and in several districts held programmes demanding immediate arrest of the perpetrators and exemplary punishment for them.
Ganajagaran Mancha held at protest rally at Shahbagh where they said that  the prevailing culture of impunity led to the killing of Tonu.
They also announced that they would hold a road march to Comilla on March 27 demanding immediate arrest of the killers.
Mancha activists also blocked the roads at Shahbag for an hour till 8:00pm.
Samajtantrik Mahila Forum, Nari Sanghati, Nagarik Parishad and Bangladesh Chhatra Union formed human chains and held protest rallies in Dhaka where the speakers demanded immediate arrest of the perpetrators and exemplary punishment for them.
Speakers at the programmes said that the government failed to ensure security of the citizens, and especially of women and children.
New Age correspondents in Chittagong, Bogra, Naogaon and Barguna reported that different organisations held programmes protesting at Tonu murder.
Source: New Age