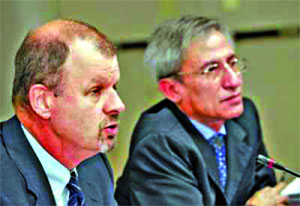 The World Bank (WB) in its latest Bangladesh Development Update, October 2015 has projected that Bangladesh's economy is likely to grow at a modest rate of 6.5 percent in FY16, observing that the country maintains economic stability. At the same time it darkly predicted that Bangladesh economy remains very much susceptible to possible "domestic and external shocks."
The global lender's latest growth projection is lower than the recent forecast by the Asian Development Bank (ADB). The government's growth target set for the current FY2015-16 is 7 percent. The ADB forecast is 6.7 percent.

Lack of transparency, corruption
Explaining the main features of the update to the press, WB Dhaka Office said: The near term political outlook is stable as is the outlook for international commodity prices.
The growth in FY16 is projected to be sustained at 6.5 percent driven by stronger consumption and rebound in exports. Public sector wage increase was said to be likely to add 0.9 percentage point to the measured growth.
However, a sop was added that the World Bank does not think achieving 7 percent growth is impossible, but it will be only possible if private investments break away from the current trap of uncertainty, and the economy does not overheat. Amongst the challenges currently undermining investor confidence, lack of transparency in macroeconomic measurement and performance was mentioned by WB.
Particular mention was made of corruption and wastage leading to big gap between development spending and actual results afield. Money laundering by way of imports of capital machinery and rice-import was also implied. Political disaffection was also hinted at. Fiscal deficit may rise to 4.7 percent of the GDP with revenue shortfall exceeding expenditure shortfall due to high revenue mobilitation target, and a rise in public spending for increased salaries for public servants.
To predict economic stability, the WB recommended maintaining good growth alongside declining inflation, rising reserves, contained fiscal deficit, stable public debt and sound money. But the country is waning in international competitiveness on both supply and demand sides alongside slower agriculture growth and stagnant private investment rate. Besides, both domestic and international risks, political uncertainty coupled with poor infrastructure might hamper the expected economic growth.
Poverty headcount based on $1.25 per day PPP is projected to fall from 43.5 percent in 2010 to 38.4 percent in 2015. Inflation has also declined in 2015 fiscal year, and it is slightly below the target of 6. 5 percent on account of favourable global market conditions, stable exchange rate, and restrained monetary growth.
Avoid complacency
But for sustaining GDP and remittance growth, creating jobs, containing inflation, improving the quality of public service delivery to reduce extreme poverty and boosting shared prosperity, it is necessary to avoid complacency and look at the (future) challenges and the outstanding challenges, said the WB report.
Couched in diplomatic language, the warnings and reservations are thus dark enough. The Wall Street Journal (WSJ) in its Asia Business News page has added another warming, that of vulnerability to international terrorism affecting Bangladesh's major export industry, the Readymade Garments sector. WSJ report dated October 19, 2015 read as follows: "Bangladeshi officials dismissed suggestions that international militant groups may have gained a foothold in the country. In recent months, however, police said they arrested at least a dozen people they said were working to drum up support for Islamic State, which holds large swaths of territory in Syria and Iraq.
The killings of Italian aid worker Cesare Tavella in September and Japanese citizen Kunio Hoshi earlier this month followed a string of deadly attacks on secular and atheist bloggers, which were claimed by Ansar Bangla, a banned group with links to Islamic State and affiliated militant networks.
Bangladesh's export-oriented ready-made garment industry is one the world's largest and employs more than 4 million workers, mostly women. International retailers source around $25 billion of clothes annually from the country.
Rubana Huq, managing director of Mohammadi Group, a large garment exporter that produces clothes for retailers such as Hennes & Mauritz AB, Sears Holdings Corp. and Wal-Mart Stores Inc. said she provided armed guards for three of her customers last week, while other buyers had canceled planned trips. 'Neither can I nullify their fears nor can I defend our position,' she said, adding that the economy could be hurt by the concerns over safety.
Efforts under question
Sweden's H&M and U.S. retailer Gap Inc. were among the companies which postponed business trips to Dhaka last week, industry insiders said. A spokeswoman for H&M said the company was taking 'appropriate security measures' and was 'in close dialogue with other brands' regarding the situation."
Add to this handicap, the competitive advantage that Vietnam is going to derive in its garments export and foreign trade after joining the Trans Pacific Partnership or TPP compact signed with USA, Canada, Australia, Japan and other seven members of the partnership.
Newspaper reports suggest that foreign missions in Bangladesh, while satisfied with enhanced security provided to their movement and their embassies, are not at all satisfied with the way the government is conducting the police investigation of the foreigners' murder cases. The government's fidelity in dealing with terror threats as much as its willful politicisation and publicity gimmicks clouding its response to terror threats has come seriously under question-mark in the minds of the international community. The spectre of resultant external shock, if not domestic, is thus very much real.
Source: Weekly Holiday