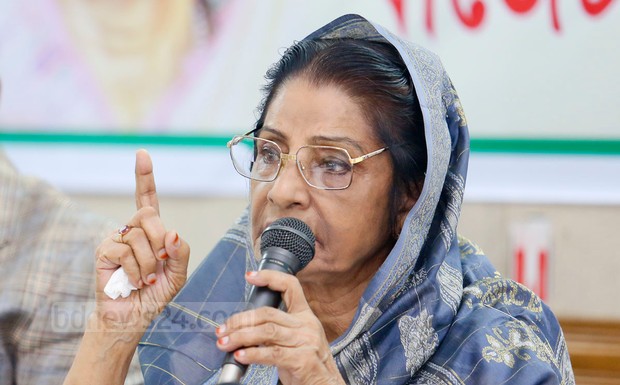 Jatiya Party, the opposition in Parliament, has found some aspects of the proposed budget "frustrating".
At a news conference on Tuesday, Leader of the Opposition Raushon Ershad said the government would fail to meet the development target.
Finance Minister AMA Muhith presented a nearly Tk 3 trillion budget with a 7 percent growth target.
Raushon, giving her official reaction to the budget, claimed people were taking risky migration routes as there was not enough employment in the country.
"Investment, particularly foreign investment, is needed to achieve the 7 percent growth target," she said.
"But the situation in the country is not favourable for wooing investment. How will they achieve a 7 percent growth?"
Foreign Direct Investment (FDI) in Bangladesh has remained persistently low despite a stable outlook projection by top credit rating agency Standard & Poor's last month.
Raushon said bureaucratic complicacies and lack of infrastructural development were discouraging investment.
FDI proposals plummeted by 73.53 percent in the first three months of 2015 but domestic investment proposals rose by 48.13 percent during the period, according to the Board of Investment.
"There are some positive sides to this budget but the people were frustrated seeing some other," the opposition leader said.
"Overall, I don't think it will contribute to public welfare."
She criticised the budget for not having "any guideline" about alleviating poverty although 40 million people lived below the poverty line.
Raushon said it did not clearly spell out how jobs will be created.
"People will take risky sea routes to other countries in search of jobs if there's no employment opportunity at home," she pointed out.
Hundreds of Bangladeshis along with thousands of Myanmar Rohingyas are boarding rickety boats of people smugglers in search of better life abroad, often endangering their lives.
An estimated 25,000 Bangladeshis and Rohingyas were victims of human trafficking in the first three months of 2015, the UNHCR said.
Thousands have been rescued by Malaysia, Thailand and Indonesia while hundreds are still feared stranded at sea.
"Many go to the Middle East with Umrah visa and don't come back as there's no work at home," Raushon said. "They are staying there illegally."
The oil-rich Gulf countries are a popular destination for Bangladeshi workers, many of whom are lured by the promise high-pay jobs.
Bangladesh inked agreements with several countries for manpower export under government arrangements but many still try to make it illegally.
Finance Minister Muhith on June 4 said the government planned to create jobs for 10 million people by setting up 100 economic zones within the next 15 years.
He said establishing the economic zones would increase export earnings by $40 billion.
Muhith has fixed a huge revenue-earning target of Tk 2 trillion. The budget has a Tk 866.57 billion deficit.
Raushon said it was unclear how the deficit would be met.
She questioned imposition of 5 percent additional tax on mobile services and said the education and health sectors had been allocated relatively less funding.
"The government shows us many dreams, but are they all realised?" questioned the former First Lady.
She said her party would present its opinion on the budget in Parliament.
"Don't compare us with opposition parties of the past," she said, taking a dig at the BNP which boycotted the 2014 general election.
"We want to practise constructive politics," she said. "We won't walk out of Parliament."
Source: Bd news24