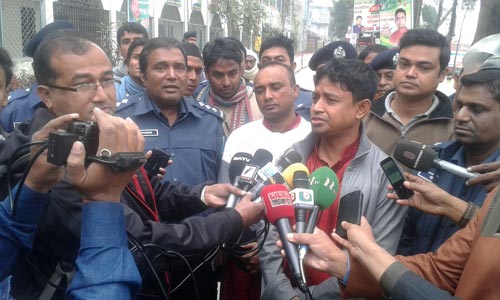 Local administration in Gazipur on Friday imposed section 144 of the CrPC restricting any kind of public gatherings over Gazipur district activists of ruling party-backed Chhatra League occupied the Bhawal Badre Alam Government College ground at Gazipur where Bangladesh Nationalist Party was scheduled to hold a rally on Saturday.
Gazipur police superintendent Harunur Rashid declared imposition of the section 144 from 2:30pm Friday for indefinite period and the BNP acting secretary general Mirza Fakhrul Islam Alamgir from a news conference in Dhaka vowed to hold the rally at the Badre Alam College ground at any cost.
Five platoons of police were deployed at Bhawal Badre Alam Government College ground to avoid unwanted situations, the police super said.
Mirza Fakhrul at a news conference at the party chief's office in Gulshan in the morning said the BNP would not step back an inch from holding the rally.
He said Chhatra League with local administration's help occupied the Bhawal Badre Alam Government College ground at Gazipur to foil BNP's programme.
'It is the government's duty to maintain the conditions for democratic process, we had taken permission for the rally and already completed all formalities required.' said Fakhrul.
Tension was mounting in Gazipur since Thursday after Chhatra League Gazipur city unit member-secretary, Towhidul Islam Dwip, claimed that they had taken over the ground and determined to thwart BNP rally.
Chhatra League men were roaming around the Badre Alam College ground where they set a podium under police protection. Witnesses said activists Krishak League were also seen around the rally ground on Friday morning.
Police arrested at least nine leaders and activists of district BNP on early Friday and obstructing any BNP activist from nearing the venue since Wednesday, said Mazharul Alam, Gazipu unit, BNP joint-secretary.
A day before, police arrested more 12 BNP activists while trying to enter the venue, he said.
Source: New Age