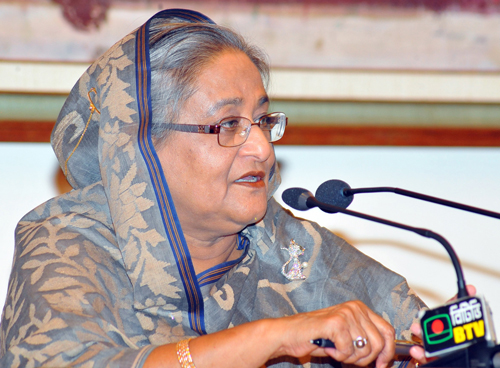 Prime minister Sheikh Hasina urged all to shun the politics of scuffle, conflict and arson and say 'No' to terrorism and militancy to ensure a safe and prosperous future for children.
"Everybody should say 'No' to militancy and terrorism. Let us build up our beloved motherland as a developed and prosperous one so that our children can live in with dignity," she said while addressing a rally of children and juvenile here today.
Dhaka district administration arranged the rally at Bangabandhu National Stadium here on the occasion of the 45th Independence and National Day. Minister for Liberation War Affairs AKM Mozammel Haq and Deputy Commissioner of Dhaka Tofazzal Hossain Mia were present.
The Prime Minister said, "Those people, who are indulging terrorism, militancy and other heinous acts like burning children alive, have no mercy. We expect no more children will be burned down. None will spoil their lives or obstruct them from going to school."
Sheikh Hasina said the government has given textbooks to the children expecting that they would devote them in learning with the flavour of new textbooks from the very first day of their academic year, and not a single day from their life would be lost. But unfortunately our expectation remained unfulfilled.
The Prime Minister said "Inshallallah we will build the country as a middle income country by 2021 and a developed and prosperous one by 2041 where today's children would find a beautiful future and peaceful atmosphere.
The Prime Minister inspected a parade of children arranged on the occasion and took salute. Instead of boarding an open jeep to inspect the parade, the Prime Minister walked to approach the children of the schools in different queues. She also witnessed spectacular march past and colorful physical display of the children.
The gallery of Bangabandhu National Stadium was tastefully decorated with portraits of Father of the Nation Bangabandhu Sheikh Mujibur Rahman, Bir Shresthas, photographs of the Prime Minister and natural beauty of Bangladesh.
Congratulating the children on the Independence and National Day, the Prime Minister said, "Independence has given us the opportunity to live with self identity. We have got our own land and statehood in South Asia. We have got our separate national flag, national anthem and constitution."
Sheikh Hasina paid glowing tributes to Bangabandhu, martyrs of War of Liberation, all Freedom Fighters and the mother and sisters who had lost their chastity and suffered immense torture in the hands of the occupation forces during war time.
The Prime Minister said Bangabandhu had immense love and affection for children. So his birthday is celebrated as the national day for children. Father of the Nation in the very first constitution of the country had specified about the rights of children.
 Sheikh Hasina said the Awami League government in 1996, formulated Children Development Policy in light of the Children Act and Children Policy framed by Bangabandhu government in 1974. Awami League government also has taken many steps for development of children and ensure their access to education.
She said free distribution of textbooks has lessened the guardian's burden of buying books for their kids at the beginning of the year. Number of drop out children has become almost to zero level while passing out rate in public examinations is over 90 percent, she added.
Sheikh Hasina said her government has created scope for the children to flourish their talent and physical and mental growth. In view of this inter-school and inter-district sports events, tournaments and competitions were introduced.
Shishu Academy and Shilpakala Academy are organizing various cultural events and competitions to flourish cultural worthiness of the students. Mini stadiums are being constructed in every upazila and every school would create scopes of sports and cultural activities for children, she said.
She urged the children to develop their habits in book reading, involve in cultural activities and sports. "Learn attentively, obey the parents and teachers and comply with discipline to build up you as perfect citizen and country's future leader," she said.
Source: Prothom Alo